MONSTA X Drops New Album 'Take 1: Are You There?' Highlight Medley; Confirmed To Attend 2018 Asia Artist Awards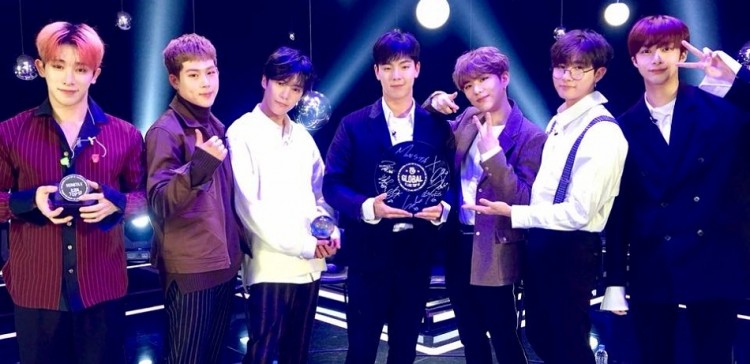 MONSTA X has dropped the highlight medley for their upcoming album Take 1: Are You There?. The K-pop group unveiled the preview a day before the official release of their new album and after confirming that the band will also attend the 2018 Asia Artist Awards.
The highlight medley was shared on the band's official YouTube channel on October 21. It gives the fans a chance to listen to all ten tracks of the brand new album. MONSTA X's second studio album Take 1: Are You There? along with its title track "Shoot Out" will officially drop on October 22 at 6 p.m. KST.
Meanwhile, MONSTA X will also be joining other K-pop and K-drama stars at the 2018 Asia Artist Awards next month. The seven-member group confirmed that they will be attending the award ceremony on November 28 at the Namdong Gymnasium in Incheon.
Other K-pop groups that have confirmed to be at the event are BTS, iKON, Wanna One, TWICE, Seventeen, and NU'EST W. IU will also attend the awards night along with members of other groups such as Block B's Zico, INFINITE's L, PM's Junho, and B1A4's Jinyoung. Viewers will also see other celebrities such as actors Lee Byung Hun (Mr. Sunshine), Joo Ji Hoon (Along with the Gods: The Last 49 Days), Ryu Jun Yeol (A Taxi Driver), Jang Ki Yong (Come and Hug Me), and Jin Joo Hyung (Hwarang: The Poet Warrior Youth).
Meanwhile, a new album and awards event are not the only ones that are keeping Wonho, Minhyuk, Hyungwon, Jooheon, Kihyun, Shownu, and I.M. very busy. The band will also participate in the famous Jingle Ball Concert tour this year.
The holiday season star-studded concert is held each year in different cities across the United States. MONSTA X has been confirmed to be performing at the Jingle Ball's concert stop in Los Angeles, San Francisco, Minneapolis, Boston, and in Philadelphia. Last summer, MONSTA X performed in seven cities across the U.S. as part of their second world tour.
Additionally, MONSTA X member Shownu also collaborated with British band PREP. The group earlier confirmed that they will be releasing new music featuring Shownu and the Korean indie band Se So Neon.
Shownu has been very vocal about his admiration on PREP's music and he also recommended the group's songs to MONSTA X fans. PREP will release their new single "Don't Look Back" that features both Shownu and Se So Neon on October 26.
© 2019 Korea Portal, All rights reserved. Do not reproduce without permission.