First Official Teaser Of K-Drama 'Encounter' Perfectly Reflects Song Hye Kyo & Park Bo Gum Characters' Personality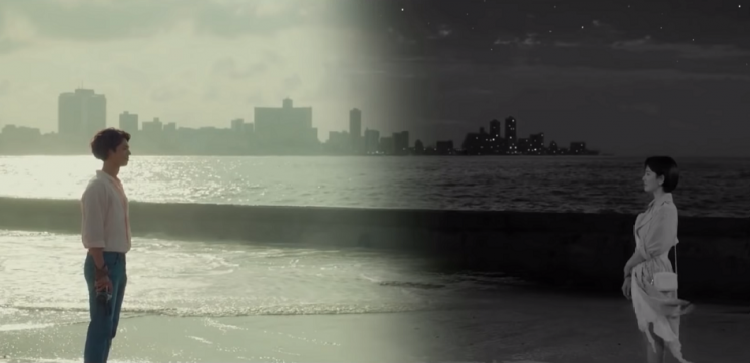 Upcoming K-drama Encounter has dropped its first official teaser and it features lead stars Song Hye Kyo and Park Bo Gum. The sneak peek also perfectly illustrates the opposite personalities of the two main characters in the series.
The teaser opens with Park holding a camera. He takes pictures at the streets of Cuba and dancing along with the locals in a bright sunny day. Then the clip changes to black and white footages of Song Hye Kyo.
At first, Song is seen leisurely walking at night in the cobblestones streets of the city then the footage shifts to the bayside where she watches the sunset. The teaser also shows Song Hye Kyo in a car that is driving away while she looks back for Park Bo Gum, who is left standing at the side of a street.
The teaser ends with the two in a day-and-night background. Both smile at each other but as Bo Gum approaches Hye Kyo, a strong wave smashes the sea wall. This suggests that lead stars' characters are in love with each other but their romance will bring chaos in both their lives. The teaser also suggests that Song Hye Kyo and Park Bo Gum's characters may have met the first time while they are in Cuba.
tvN earlier released a poster of Song Hye Kyo and Park Bo Gum together. In the promotional material, Song Joong Ki's wife is seen resting her head comfortably on the Love in the Moonlight actor's shoulder against a romantic background of a sunset at the bay area.
Encounter tells the story of the romance between a woman, Cha Soo Hyun (Song Hye Koy), who never experience to live the life that she wants, and a man, Kim Jin Hyuk (Park Bo Gum), who enjoy living a simple life. Soo Hyun has been constantly on the spotlight as she is the daughter of a famous politician and an ex-wife of a chaebol. Jin Hyuk, on the other hand, always finds happiness even in small things in his life.
The Encounter first teaser also reflects Soo Hyun and Jin Hyuk's personality. The still images of Soo Hyun that were released by tvN recently showed a lonely yet sophisticated woman. Jin Hyuk, on the other, looks innocent and happy in his promotional images.
Encounter is set to premiere on November 28 after The Smile Has Left Your Eyes finale on tvN. It will take the 9:30 p.m. every Wednesdays and Thursdays timeslot.
© 2019 Korea Portal, All rights reserved. Do not reproduce without permission.