BTS News: Ed Sheeran Hints Collaboration With Bangtan Boys; Songwriter Reveals 'Euphoria' Is Originally For Justin Bieber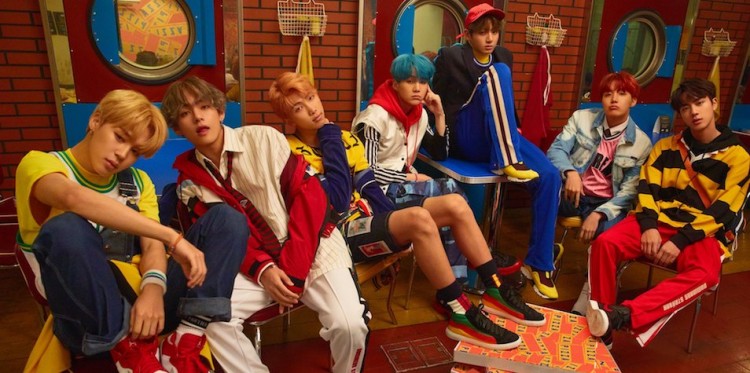 BTS is relentlessly grabbing headlines, almost three months after the release of their latest album. This early in the week, BTS already made it in the news for several reasons.
The band's Burn The Stage: The Movie broke box office record in the United States and has been declared as the highest-grossing cinema musical production of all time. It was followed by news that Ed Sheeran is finally doing a collaboration with BTS. The songwriter of Jung Kook's song "Euphoria" has revealed to whom she first offered the song. And finally, Steve Aoki released the official music video of his latest collaboration with BTS, "Waste It On Me."
In a recent interview with Sheeran, he responded to a fan tweet, telling the singer that his fans have been waiting for an Ed Sheeran-BTS collaboration. The English crooner then responded with a hint of a possible collaboration with the Korean boy group.
"I actually wrote a song that I think they might be messing with. I heard this the other day. I don't know. I really like BTS though, I think they're great," Sheeran said.
The singer previously sent a message to BTS when the septet released their Love Yourself: Answer album in August. He congratulated the group and told the band to brace themselves for what is about to come to them.
Also this week, the songwriter/producer of BTS song "Euphoria" has revealed that the track was originally offered to Justin Bieber. Melanie Fontana said since it doesn't sound like K-pop, she offered it first to the Canadian singer. However, someone from Bieber's camp turned it down.
"It's not very K-pop sound. In fact, the song I did for them was originally supposed to be for Justin Bieber. I don't know if it was his manager or him, but someone shut it down. And I'm so happy that it got shut down because then it went on to become a BTS single," Fontana told Koogle TV (via AllKpop).
Meanwhile, Steve Aoki has finally dropped the official music video of "Waste It on Me," his latest collaboration track with BTS. The MV features some familiar faces in Hollywood. Actor Ken Jeong plays the role of a waiter at a restaurant, who is in love with Aoki's sister, model and actress Devon Aoki (Steve Aoki's sister). The MV cast also includes Aoki himself, Ross Butler, Jimmy Yang, Leonardo Nam, Jamie Chung, Joe Hahn, Jessica Lu, Tiffany Ma, Ben Baller, Vincent Rodriguez III, Joe Hahn, and more.
The English-language "Waste It on Me" was released on October 25 as part of Aoki's latest album Neon Future III. The track topped iTunes charts worldwide and debuted at No. 89 on Billboard's Hot 100 chart.
© 2023 Korea Portal, All rights reserved. Do not reproduce without permission.