'The Beauty Inside' Episode 13 & 14 Spoilers: Se Gye Breaks Up With Do Jae + JTBC Series Topped Most Buzzworthy K-Drama List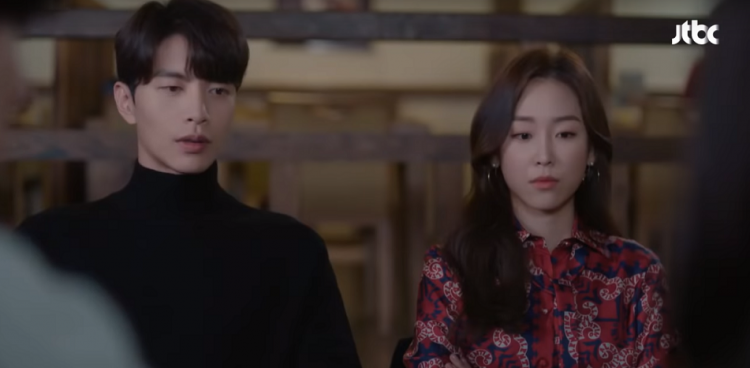 Do Jae's secret was finally revealed but he will face another challenge in his relationship with Se Gye in the upcoming The Beauty Inside Episodes 13 and 14. The actress will break up with him after hearing his tragic story that happened 10 years ago.
Se Gye (Seo Hyun Jin) finally came back to her original self when Do Jae told her that he is willing to spend the rest of his life with her even she will stay as an old man. In the previous episode, Se Gye turned into an old man. She said goodbye to Do Jae when she did not return to her old self after a week.
The Beauty Inside follows the story of an A-list actress, Han Se Gye, who transforms into someone else for one week out of each month, and Seo Do Jae, a man who suffers from prosopagnosia or facial blindness. In Se Gye's recent transformation, she stays as an old man after more than a week.
When she returned to her old self, Se Gye was able to stop Chae Yoo Ri (Ryu Hwa Young) from spreading a rumor that she changes her face. Se Gye threatened her rival by telling her that she actually wants the rumor to be true so she can do whatever she wants, like killing Yoo Ri, while she has a different face.
Elsewhere, Do Jae also revealed to his grandfather, his step-dad as well as to his office staff that he has prosopagnosia which disabled him to recognize people's faces. CEO Kim apologized to Do Jae for treating him harshly, not knowing that he is suffering from an incurable disorder.
Kang Sa Ra (Lee Da-hee), meanwhile, also used the opportunity to tell her family that she will not marry President Choi because she doesn't love him. She also revealed that Choi knows about Do Jae's secret. Sa Ra said Choi and Director Kim (Lee Cheol Min) will use his brother's weakness to bring the latter down and take the Sunho company.
It looks like things are back to normal for Se Gye and Do Jae until the latter told her the story how he got into an accident 10 years ago. Se Gye realized that she was the old woman that Do Jae saved from a road accident. Do Jae got hit by a car instead of the old woman.
In the upcoming episode, Se Gye tells Do Jae that it was her fault that he lives with a disability today. She tries to break up with Do Jae as she is tormented with guilt for what happened to her boyfriend. Do Jae, however, tells Se Gye that saving her life 10 years ago is the best thing that he had done. The Beauty Inside Episode 13 and 14 airs on Tuesday at 9:30 p.m. KST on JTBC.
Meanwhile, The Beauty Inside rose to the top of the most buzzworthy K-dramas from November 5 to November 11. The Good Data Corporation analyzed Korean dramas that are currently airing based on news articles, online communities, social media, blog posts, and video clip views. The Beauty Inside scored 15.32 percentage, topping 39 other dramas.
© 2019 Korea Portal, All rights reserved. Do not reproduce without permission.