'The Beauty Inside' Episode 11 & 12 Spoilers: Yoo Ri Suspects Se Gye Is Keeping A Secret; Sa Ra Visits Eun Ho At The Seminary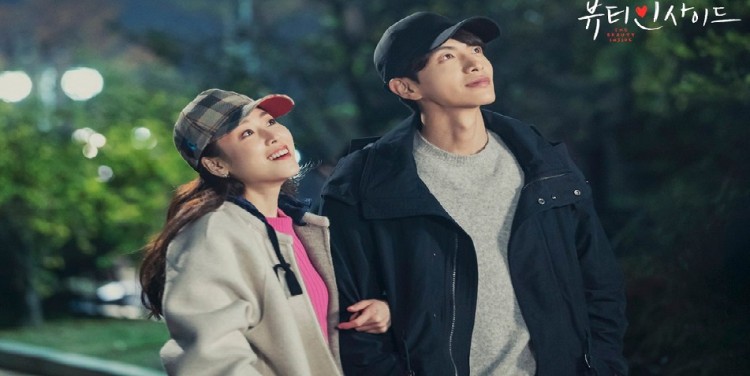 The rivalry between actresses Seo Se Gye and Chae Yoo Ri continues in The Beauty Inside Episode 11 this week. She will send someone to spy on Se Gye. Meanwhile, Eun Ho pursues his dream to become a priest.
In a preview for The Beauty Inside Episode 11, Do Jae (Lee Min Ki) is seen paying Se Gye (See Hyu Jin) a visit at her home after the funeral of her mother. The actress admits to her boyfriend that she is pretending that everything is okay on her but the reality is, she is struggling to accept the recent death of her mother.
It looks like Do Jae will also visit Se Gye at the set for her new film to cheer her up. Da Jae was seen holding a bouquet of flowers and Se Gye runs to give him a hug.
Meanwhile, Chae Yoo Ri (Ryu Hwa Young) thinks that Se Gye is hiding a secret and she is determined to find out what it is. In Episodes 11 and 12 teaser, it seems like Yoo Ri is getting suspicious of Se Gye as the latter is seen on the set location of their film looking happy despite the recent death of her mother.
Then, Yoo Ri is seen talking to someone over the phone. She orders the person on the other end of the line to spy on someone, which could be Se Gye.
Elsewhere, Kang Sa Ra ( Lee Da Hee) visits Ryu Eun Ho (Ahn Jae Hyun) at the seminary. She tells him that she just let go of something before seeing him. When Eun Ho asks her what it is she decided to give up, Sa Ra tells him that she doesn't need to tell everything to him. Sa Ra could be referring to putting her pride aside just to see Eun Ho.
Eun Ho, however, insists of knowing what Sa Ra just gave up. He tells her that he needs to know so he could make a decision whether or not he needs to let go too of something. Eun Ho could be referring to letting go his dream to become a priest for Sa Ra.
The Beauty Inside Episode 11 airs on November 5. The JTBC K-drama has Monday-Tuesday at 9:30 p.m. KST timeslot.
© 2019 Korea Portal, All rights reserved. Do not reproduce without permission.