'NCIS: Los Angeles' Season 10 Episode 7 Spoilers: Team Tracks Down A Suspected Killer Who Knows Sam; Callen Visits Anna In Prison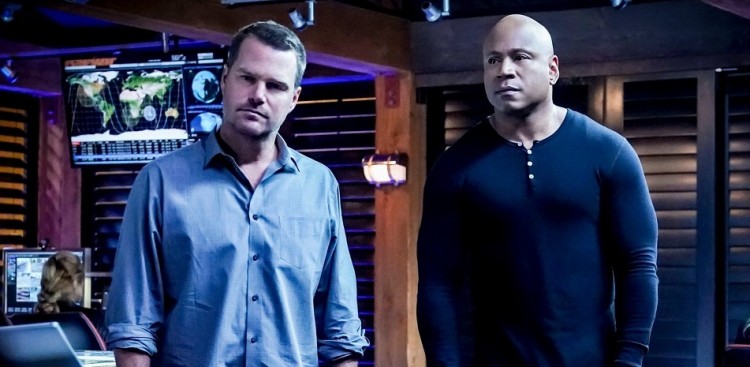 NCIS: Los Angeles Season 10 Episode 7 may give a little clarity of what to expect between Callen and Anna in the future. Meanwhile, the team will also track down a suspected serial killer who seems to have the same skills set with Agent Sam Hanna.
Now that the Mexico investigation is behind them and no cartel hit list to worry about, the NCIS Los Angeles team will solve cases and running after criminals again. In the upcoming Episode 7, NCIS will partner with the State Department after the murder of an arms dealer is connected to a series of crimes that are believed to be done by someone with elite special forces training.
Based on the episode title which is "One of Us," it looks like the man, Bill Goldberg (Lance Hamilton), that the team is hunting down is one of their own. The teaser for NCIS: Los Angeles Season 10 Episode 7 also suggests that Goldberg knows Sam. He could be a SEAL, like Sam. The teaser also hints that Sam may have developed a bond with the suspect which Callen (Chris O'Donnell) thinks is a very bad idea.
Meanwhile, Callen doesn't need to worry about his association with Anna anymore. It can be recalled that during the investigation on the unsanctioned Mexico operation, NCIS Deputy Director Louis Ochoa (Esai Morales) told Callen to keep his distance from Anna as his connection with her will do more damage on his reputation.
Now that the investigation is over, Callen will visit ATF Agent Anna Kolcheck (Bar Paly) in prison as she awaits sentencing. In Episode 5, Anna told Callen that she is worried that she could go to prison for shooting a suspect in the NCIS-ATF joint operation. The suspect died.
Callen gave his statement about the incident and told Anna that he only told the investigators what he saw. At the end of the episode, Callen and Sam saw Anna in handcuffs and being escorted to the courthouse.
With Mosley (Nia Long) in the wind, Hetty (Linda Hunt) is still nowhere to be found, and Admiral Kilbride (Gerald McRaney) is still in D.C., it looks like NCIS Deputy Director Louis Ochoa will take over in managing the LA operation. Morales will return in Episode 7. NCIS: Los Angeles Season 10 Episode 7 airs Sunday at 9:30 p.m. ET on CBS.
© 2020 Korea Portal, All rights reserved. Do not reproduce without permission.