'Where Stars Land' Episode 13 & 14 Spoilers: Yeo Reum Spends The Night At Soo Yeon's Place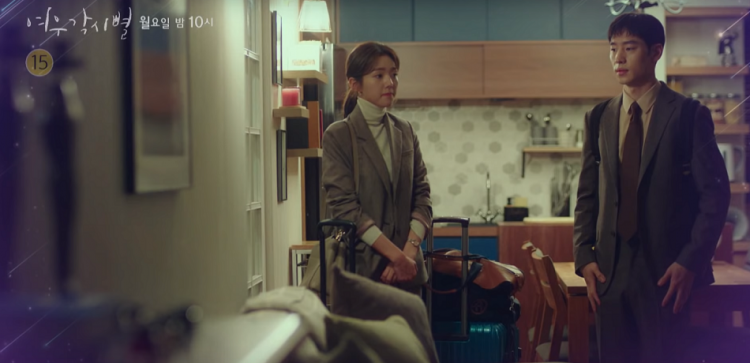 The romance between lead character Han Yeo Reum and Lee Soo Yeon in Where Stars Land is undeniable. The two will once again charm viewers in the upcoming episode of the tvN romance drama as the two will spend the night together and it looks like it is not going to be their first and last night together.
In the previous episode, Yeo Reum (Chae Soo Bin) had been kicked out of her apartment. Since she can't immediately transfer to the staff lounge, she bought her things at the airport and hid it in a storage room. Her luggage sparked bomb scare when it was found by some staff. Bomb experts were called on site to check the unmarked luggage.
When Yeo Reum was reprimanded once again of her action, Soo Yeon (Lee Je Hoon) offered her to stay in his place for the night and check in to the staff lounge on the next day. However, the teaser clip for Episode 13 and 14 suggests that Yeo Reum will remain homeless longer than she expected. The airport management will be having a problem with the staff housing as some of the personnel are seen lying around at the airport.
Moreover, Yeo Reum could be looking to an office rumor about her and Soo Yeon. Yeo Reum tells Soo Yeon that she bumped into Na Young Joo (Lee Soo Kyung) of the Service Security Department when she left his place.
The rumor about Soo Yeon and Yeo Reum sleeping together will also reach Go Eun Seob (SF9 member Rowoon). Eun Seob has romantic feelings for his close friend Yeo Reum, but the latter is just too naïve to notice him.
Meanwhile, Seo In Woo (Lee Dong Gun) is determined to get rid of Soo Yeon, the man who looked up to him as a brother when they were still young. His hate towards Soo Yeon resulted in an investigation on the latter's first-degree personal disability and "support device."
The sneak peek for Where Stars Land Episode 13 and 14 shows the head of the Security Service department, Choi Moo Ja (Lee Sung Wook) talking to Soo Yeon. Choi is asking the passenger service agent to prove to him that the support device he is wearing will not cause any safety and security problem at the airport.
In the previous episode Where Stars Land, it was revealed that Soo Yeon and In Woo are stepbrothers. When Soo Yeon's scooter crashed on the SUV that In Woo was riding, the latter did nothing to help him. Where Stars Land airs on Mondays and Tuesdays at 10 p.m. KST.
© 2019 Korea Portal, All rights reserved. Do not reproduce without permission.