'Where Stars Land' Episode 11 & 12 Spoilers: Han Yeo Reum Snoops Around About Lee Soo Yeon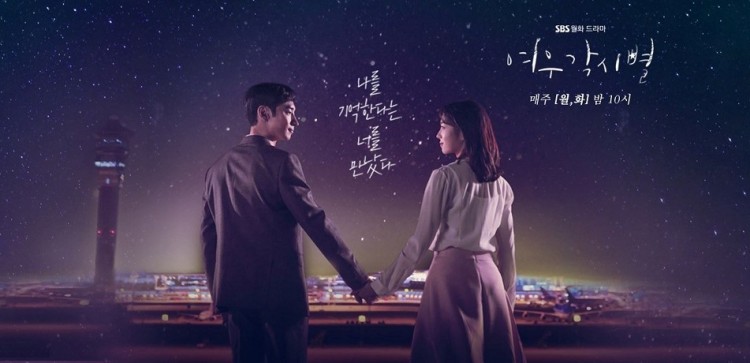 The romance between Lee Soo Yeon and Han Yeo Reum continues to deepen in the upcoming episode of Where Stars Land. After Soo Yeon admitted to Yeo Reum that he likes her, it seems like the two are going on their first date in Episode 11 and 12 on Tuesday. However, it will also raise more questions for Yeo Reum about his mysteriously strong co-worker.
Soo Yeon (Lee Je Hoon) looks happy when he arrives at the airport the following day. However, his day will not be all sunshine. The tension between him and Seo In Woo (Lee Dong Gun) will also escalate. In the teaser trailer for the upcoming episodes, Soo Yeon and In Woo will have a squabble, and the former is seen throwing In Woo to the wall.
"You bother me, so I'll get rid of you," In Woo says to Seo Yeon in the trailer. "You used to be my brother," Seo Yeon replies.
Moreover, Soo Yeon will also have to take extra care of his actions. Passenger Services head Yang Seo Koon (Kim Ji-soo) will warm Soo Yeon to be more cautious of his action as the head of the Security Service department Choi Moo Ja (Lee Sung Wook) is getting more curious about him and plans to look deeper into his background.
It looks like Choi is not the only one who will snoop around about Soo Yeon. Han Yeo Reum (Chae Soo Bin) will also get curious about Soo Yeon after she holds his right arm and feels something on it.
Where Stars Land follows the story of Lee Soo Yeon and Han Yeo Reum. Soo Yeon is a mysterious rookie employee at the Incheon International Airport who harbors a secret while Yeo Reum is a clumsy but hardworking employee at the same airport. Also in the story is Seo In Woo, the ambitious leader of the management planning team.
He and Soo Yeon used to treat each other like brothers. But something happened between them 12 years ago that made them turn against each other. After more than a decade of being strangers to each other, they end up as co-workers at the airport.
In Episode 11 and 12, the transportation service team will also face another problem, and it looks like it has something to do with the valet parking service. In some still photos released by SBS for the K-drama's upcoming episode, some half-naked, tattooed gang members are seen sprawling on the floor and office tables. Instead of being frightened of the tattooed men, Han Yeo Reum brightly smiles at them.
Meanwhile, Where Stars Land continues to soar in viewership ratings. Its recent episode recorded an eight percent rating and a peak of 8.7 in the metropolitan area, according to Nielsen Korea. Where Stars Land airs on Mondays and Tuesdays at 10 p.m. KST.
© 2023 Korea Portal, All rights reserved. Do not reproduce without permission.