'NCIS: Los Angeles' Season 10 Episode 4 Spoilers: LA Agents, Mosley, & Her Son Are Targets Of Dangerous Hitmen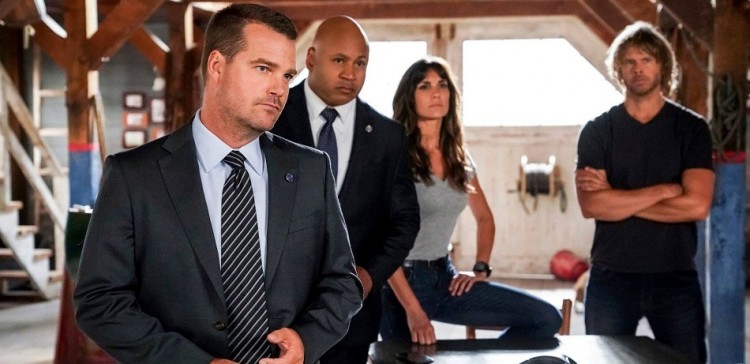 Problems will continue to mount for Assistant Director Shay Mosley and the rest of team in the upcoming episode of NCIS: Los Angeles Season 10. Aside from facing an investigation for the unsanctioned mission in Mexico, their names are also now in cartel hit list.
Actor Esai Morales will be making his NCIS debut in Episode 4, titled "Hit List." In the episode, NCIS Deputy Director Louis Ochoa (Morales) arrives with Special Prosecutor John Rogers (Peter Jacobson) to interview Mosley (Nia Long) about the off-the-books mission in Mexico. But aside from thinking about her explanation for her actions in the previous season finale, Mosley will also have to think about how to protect her son.
The team will deal with the aftermath of their Mexico mission in Episode 4. In a sneak peek for the upcoming episode, Callen (Chris O'Donnell) tells Mosley that she and her son are in a cartel hit list along with the other NCIS LA agents. The teaser also shows Callen and Sam (LL Cool J) breaking down a door of a room that has different knives hanging from the ceiling. Sam is also seen talking to someone about a serial killer.
It can be recalled that in the NCIS: Los Angeles Season 9 finale, the team launched a mission in Mexico to locate and rescue Mosley's son from his arms dealer father, Spencer Williams (Lamont Thompson). Callen, Sam, Kensi (Daniella Ruah), and Deeks (Eric Christian Olsen) successfully rescued Mosley's child and was able to fly him out of harm's way with his mother. But the team failed to get extracted from the area as their SUV is blown out by a missile.
The incident forced Hetty (Linda Hunt) to ask for help from her friends which eventually raised alarm to the DOD. The team eventually got rescued safety but now facing the repercussion of their action. Unsurprisingly, the cartel will also retaliate by hiring contract killers to hunt down everyone involved in the raid at Williams' (Lamont Thompson) compound and took his son.
Meanwhile, Gerald McRaney will once again appear in Episode 4 as Retired Navy Admiral Hollace Kilbride, who temporarily leads the LA's operation in the absence of Mosley and Hetty. Kilbride flew back to Washington, DC in the previous episode but he will be back in the upcoming episode. It looks like he is tagging along Deputy Director Ochoa and the special prosecutor this time.
It is unclear if Hetty will appear in Episode 4. Many NCIS LA fans are expecting the LA HQ's Operations Manager will help out somehow especially since her agents' lives are in danger once again. Don't miss NCIS: Los Angeles Season 10 every Sundays at 9 p.m. ET on CBS.
© 2021 Korea Portal, All rights reserved. Do not reproduce without permission.