'What's Wrong With Secretary Kim' Actor Park Seo Joon Begins Filming New Action Movie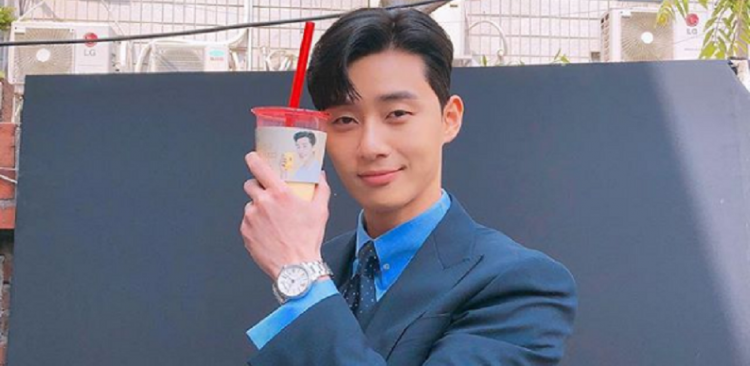 Cameras have started rolling for actor Park Seo Joon's new film. The new project of the What's Wrong With Secretary Kim star is an action/horror movie in which he plays the role of a champion fighter who join an exorcist priest in his mission.
Park stars in the movie, titled The Divine Fury, along with award-winning actor Ahn Sung Ki, Woo Do Hwan, and Choi Woo Shik. The film's production kicked off on August 14.
Park portrays the role of Yong Hoo, a champion fighter who suffers emotional trauma as a child after losing his father in a tragic accident. Ahn Sung Ki will play Father Ahn, a priest and an exorcist who risks his life to cast out demons and save possessed human souls. The path of the two lead characters will cross, and Yong Hoo will end up joining the priest in his dangerous fight against powerful evil forces that wreak havoc on the world.
Woo Do Hwan will portray Ji Shin, a mysterious figure with the ability to see the weakness of others and uses them to his advantage. Choi Woo Shik will be Father Choi, a young priest that assists Father Ahn in his exorcisms.
Park acknowledges that it will be a long and challenging production and expresses his hope that no one will get hurt during filming. He vowed to do his best to portray his character to help achieve a quality movie.
The Divine Fury marks the reunion for Park and director Jason Kim, who previously worked with on the 2017 film Midnight Runners. The Divine Fury is set to premiere in 2019.
Park Seo Joon is currently at the peak of his popularity. He recently made the hearts of many fans flutter with his portrayal of narcissistic executive Lee Young Joon in What's Wrong With Secretary Kim. The TV series was a huge success. It dominated its timeslot until the finale episode last month.
The former Music Bank host also recently topped the August brand reputation ranking for K-drama actors along with his What's Wrong With Secretary Kim co-star Park Min Young. He also ranked as the top influencer of all Korean actors today and on the second spot in Weibo's Hallyu influencers chart, next to BTS. He is not only popular in his home country but in other countries as well, particularly in China.
Park rose to fame for his roles in roles in K-dramas Kill Me, Heal Me and She Was Pretty which were both released in 2015. The same year, he was featured in thriller film The Chronicles of Evil. He had won several accolades including Best New Actor award at the Korean Association of Film Critics Awards. The actor also recently inked a contract with a new agency, Awesome ENT, which is founded by his long-time manager, Yang Geun Hwan.
© 2023 Korea Portal, All rights reserved. Do not reproduce without permission.