'What's Wrong With Secretary Kim' Episode 12 Spoilers: Young Joon Plans Sexy Date, Mi So Ruins Romantic Night?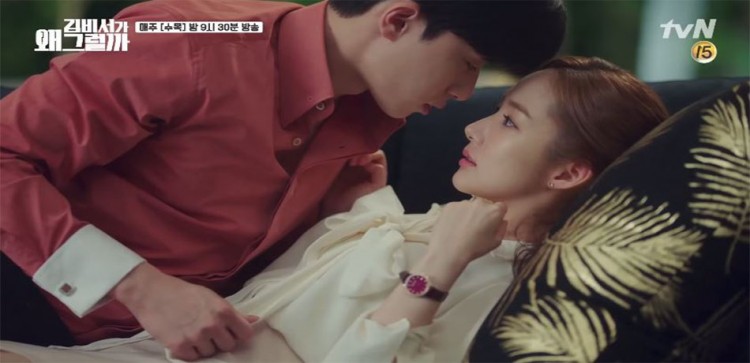 A beloved couple might soon find themselves enjoying a romantic yet sexy night together in What's Wrong with Secretary Kim Episode 12. Latest spoiler news tease of Young Joon's (Park Seo Joon) plans to seduce Mi So (Park Min Young).
After a scary flashback that rendered Mi So unconscious, Young Joon finally admitted that he remembered everything that happened during the kidnapping incident. Featured in What's Wrong with Secretary Kim Episode 11, the couple had an emotional discussion about their dark childhood that ended with Mi So telling Young Joon not to keep secrets from her.
Despite Mi So's sudden collapse that resulted in a quick hospitalization, the ordeal had a positive effect on the couple's relationship in What's Wrong with Secretary Kim Episode 11. Growing even closer to each other, Young Joon was able to fulfill some of the promises he made to Mi So when they were younger. Gifting the said secretary with the doll and toy house that she wanted when she was a child, Young Joon also took Mi So on a special amusement park trip to show his girlfriend where her old house used to be.
The said businessman even became protective of his girlfriend and came up with creative ways to ensure that Mi So had a stress-free day at the office after her hospitalization. In What's Wrong with Secretary Kim Episode 12, Young Joon will continue to show his caring and romantic side. Worried that Mi So might suffer from nightmares given the scary flashback that she had, Young Joon will stay close to his girlfriend by spending the night at her house.
The small confines of Mi So's studio apartment will push Young Joon to bring her to his house instead. Being in close contact with his girlfriend will pave way for the young businessman to deploy his seduction plan. However, Young Joon's attempt to become even closer with Mi So might be derailed as shown in the What's Wrong with Secretary Kim Episode 12 teaser clip.
A scene in the said clip showed a fatigued-looking Young Joon with a relaxed Mi So lying beside him on the bed. At this time, it is still unclear whether the said businessman's sleepless night can be attributed to his trauma or if Mi So opted to overlook his attempt at romance. Undeterred by the experience, Young Joon will plan another sexy date to seduce Mi So in spending a romantic night with him in What's Wrong with Secretary Kim Episode 12.
What's Wrong with Secretary Kim Episode 12 will be released on July 12. The drama airs every Wednesday and Thursday on tvN.
© 2023 Korea Portal, All rights reserved. Do not reproduce without permission.