Lee Dong Wook Gives Witty Response to 'Goblin' Actor Gong Yoo's Hilarious Coffee Treat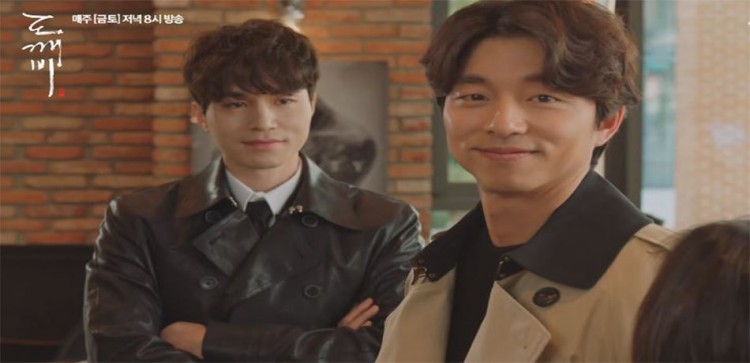 Lee Dong Wook and Gong Yoo formed a strong bond when they starred in the global hit Goblin. Recently, the Train to Busan actor showed his support for his former co-star's upcoming drama in a funny way.
Gong Yoo surprised Lee Dong Wook with a coffee truck treat that he had sent to the actor's filming set. The My Girl star has been busy filming scenes for his upcoming medical drama Life. Unlike typical coffee truck treats that would feature a banner or two that contains the sender's supportive message, the Train to Busan actor opted to use posters with hilarious notes.
Three posters decorated Gong Yoo's coffee truck treat that showed images of himself with Suzy's former boyfriend. One of the banners featured the latter wearing a physician's coat while Gong Yoo's picture included a note that jokingly bashed Lee Dong Wook's attire. In a cartoon-like speech bubble, the Coffee Prince actor's comment read, "I see you're wearing quite an unrefined coat, from Gong-blin."
Gong Yoo was referring to Lee Dong Wook's previous grim reaper role in Goblin where he wore several dark-colored coats and stylish business attires. Continuing with the Goblin theme, one of the Train to Busan actor's coffee truck banners also contained a hilarious message about his former co-star's "past life" as a grim reaper and his new role as a doctor. Emulating his character as the immortal goblin who had a love-hate bromance with the grim reaper, Gong Yoo ended his funny note with: "Hmph! I still hate you!"
Meanwhile, Lee Dong Wook gave a witty response to Gong Yoo's messages. Taking to social media on July 10, the Life actor uploaded a photo of himself bowing to his former co-star's coffee truck surprise. Paying homage to the said actor's titular Goblin role, he captioned the Instagram post: "You who seems indifferent but is warm-hearted."
Avid fans of the My Girl star can look forward to the actor's drama comeback in the upcoming medical series Life. Lee Dong Wook will portray the lead character Ye Ji Woo, a dedicated physician who believes that saving lives is more important than earning money. In a previous interview, the actor even described his character as a "very normal doctor" who works hard to save his patients amidst all the challenges and frustrating situations that would come his way.
Lee Dong Wook's new series Life will premiere on July 23 on JTBC. The drama will replace Miss Hammurabi which will end its 16-episode run on July 16.
© 2023 Korea Portal, All rights reserved. Do not reproduce without permission.