Super Junior's Ryeowook Discharged From Military; Promised New Promotions, Album, Return To The Group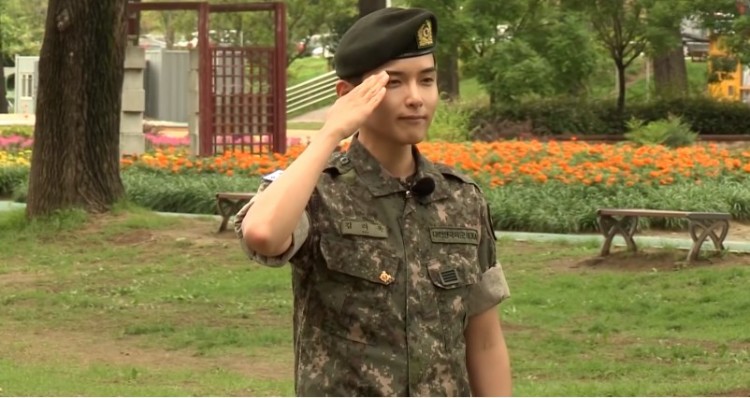 Super Junior's Ryeowook was discharged from the military on Tuesday, July 10. As the 31-year-old star finally completed his mandatory service, he revealed his readiness to return to his group and the business.
Ryeowook is the second to the last Super Junior member to successfully complete his mandatory service at the Army 37th division in the county of Jeungpyeong. Kyuhyun is still in the military and is set to be discharged on May 24, 2019.
While he was still wearing his combat uniform, Ryeowook said goodbye to the members of his military band, per The Korea Times. The Super Junior member also welcomed fans and journalists who were waiting for him outside. "Long time, no see," he said.
Ryeowook went on to say that he cried a lot when he left the military. "I felt so sad to part with my friends (in the military) after spending one year and nine months together," he added. However, he later announced that he officially returned from Sgt. Kim Ryeo-Wook to Super Junior's Kim Ryeo-Wook.
"I have sung a lot in the military band ... now I want to go back onstage as part of Super Junior," Ryeowook told everyone. He admitted he thought fans already forgot him; thus, he was thankful they came. He then promised that he would do a number of promotions and an album. He also added that his group prepared for his return.
Also, Ryeowook revealed that he is working on "something special" to give to his followers, according to Soompi. Of course, awaiting fans are all excited to see their favorite Super Junior member with the group again. Other members of the South Korean band were also there to support him.
In fact, Donghae, Eunhyuk, Siwon, and Leeteuk graced his discharge ceremony. However, Ryeowook later revealed that Super Junior members didn't visit him. The actor cleared that some of them at least came to the guardhouse, but he promised that he would never forget others that didn't come to see him.
Siwon then laughed at his statement and said that knowing Ryeowook, he would always remember. The Super Junior member will officially be meeting his fans in the upcoming fan meeting, Return to the Little Prince, on July 12.
© 2023 Korea Portal, All rights reserved. Do not reproduce without permission.