'Mr. Sunshine' Episode 3 Spoilers: Lady Ae Shin Struggles With Freedom Fighter Alter Ego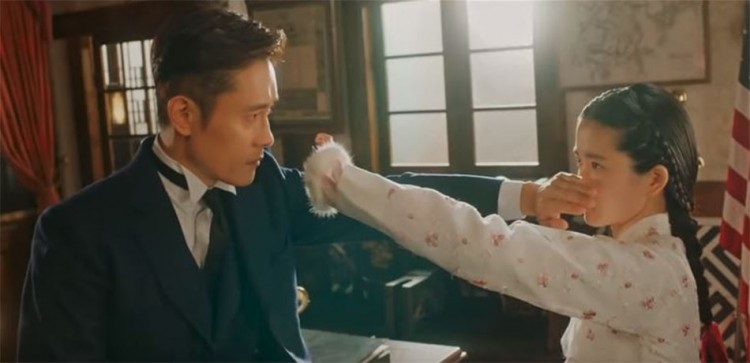 Beloved characters will soon find themselves faced with the harsh realities of an impending war in the upcoming Mr. Sunshine Episode 3. Latest spoiler news teased of Lady Ae Shin's (Kim Tae Ri) tense confrontations with a mysterious warrior, as well as members of the U.S. Army.
Mr. Sunshine Episode 2 unveiled Lady Ae Shin's alter ego as a patriotic freedom fighter who was assigned to assassinate a traitorous American who appears to be a strong Japanese supporter. Clad in dark clothes with her face half hidden by a handkerchief tied around her head, the noblewoman hid in the shadows while preparing to shoot the said traitor. However, her assassination attempt was intercepted when another rifle-bearing assassin fired the shot that killed her target.
Wearing similar clothes, Eugene (Lee Byung Hun) had the same mission and was surprised to find that another assassin was sent to kill the traitorous American. A tense meeting between the U.S. officer and the noblewoman at the rooftop nearly ended in disaster, but the two decided to go their separate ways upon hearing the sound of angry men coming their way. Aired on July 8, Mr. Sunshine Episode 2 also featured Lady Ae Shin's meeting with Eugene at the US Diplomat's office that resulted to the two characters trying to confirm the other's assassin-like alter egos.
In Mr. Sunshine Episode 3, Lady Ae Shin and Eugene will begin to wonder about each other's real purpose and hidden identities. The noblewoman will even join the said US army officer in a boat trip so that she can get to know him better. However, the patriotic young woman's confidence in her gun fighting abilities might land her in trouble.
Boarding what appears to be a train filled with several military men, Lady Ae Shin and her companions found themselves the target of a soldier who aimed a gun at them. Unfazed by the threat, a scene in the Mr. Sunshine Episode 3 trailer showed Lady Ae Shin deftly handling a rifle and pointing it back at the said soldier.
Meanwhile, the said noblewoman will meet a mysterious Yakuza fighter in Mr. Sunshine Episode 3. With the Black Dragon Society leader Dong Mae (Yoo Yeon Seok) fighting a bloody battle on the streets of Joseon, Lady Ae Shin will witness the fight despite her servant Haman Daek's (Lee Jung Eun) efforts to keep her young mistress' eyes closed. The encounter will serve as an awkward reunion between Lady Ae Shin who appears to have saved Dong Mae in the past.
Mr. Sunshine Episode 3 will be released on July 14. The drama airs every Saturday and Sunday on tvN.
© 2019 Korea Portal, All rights reserved. Do not reproduce without permission.