Donald Trump's First Visit To Britain To Be Met With Mass Protests, Offensive Orange Blimp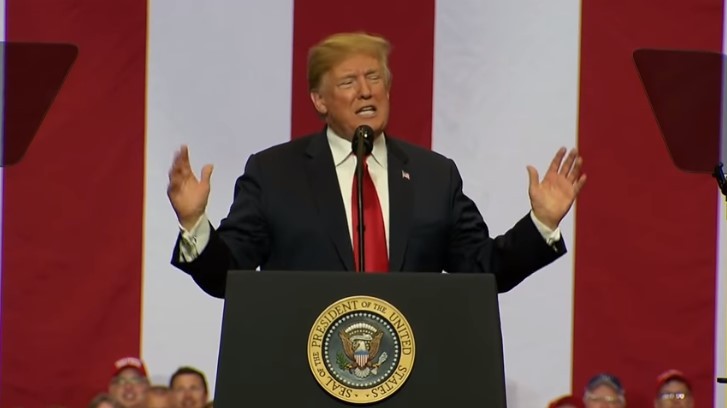 It looks like Donald Trump is in for a huge surprise when he touches down in Britain next week. Protesters are already aiming to bombard the President of the United States with rallies in London and Scotland in protest of the burgeoning transatlantic trade war. In addition to that, thousands of people want Trump to know that they are unhappy with the way immigrant families are being treated at the US border.
Donald Trump may not know it, but he has actually given British protesters plenty of time to gather their forces. It was initially expected that the President of the United States would visit the British Parliament over a year ago. Although the visit has been delayed, demonstrators have kept gaining more support until it was announced that Trump would finally sit down with British Prime Minister Theresa May.
Together Against Trump has already laid down plans to march through London's center to Trafalgar Square. The organization already boasts of over 100,000 demonstrators who come from rights groups and labor unions. Women's March London is also hosting a Bring The Noise rally that will end up in Parliament Square. Both mass protests will take place on July 13, Donald Trump's first day in Britain.
Shola Mos-Shogbamimu, founder of Women in Leadership, says that Bring The Noise will provide "a proper British welcome for Trump." The march's co-organizer insisted that the mass protest is the only way to make themselves heard.
"I cannot stand by and be complicit through silence as intolerance, injustice and discrimination shape hostile policies, laws, and environments for many," Mos-Shogbamimu declared. "If all I have is my voice and vote, I will make them count."
One protestor is taking a less noisy yet effectively eye-catching direction on July 13. Leo Murray has just been granted permission by Mayor Sadiq Khan to fly a huge blimp of Donald Trump as a baby. "Trump Baby" will be seen over Parliament Square next Friday.
PR Stunt of The Day:

Sadiq Khan approves plans to fly giant Donald Trump 'angry baby' blimp over London during president's visit after crowdfunding campaign goes viral.

The balloon depicting Mr Trump as a nappy-clad orange baby will take flight from Parliament Sq on 13th July. pic.twitter.com/5e0uPi7tNt — Andrew Bloch (@AndrewBloch) July 5, 2018
Donald Trump has yet to react to the mass protests and the "Trump Baby" blimp. The President of the United States will arrive in London on July 13.
© 2021 Korea Portal, All rights reserved. Do not reproduce without permission.