Donald Trump's Claim About Saudi Arabia Boosting Oil Production Gets Shut Down By White House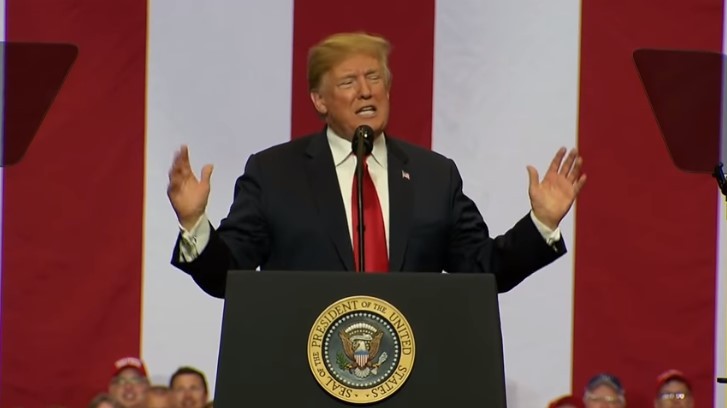 Donald Trump may have been a bit enthusiastic about a recent tweet regarding a possible rise in oil production. The President of the United States has announced that he spoke to King Salman bin Abdulaziz Al Saud and had confirmation that the Saudi Arabia leader had agreed to increase oil production to make up for rising gas prices. However, the White House has issued a statement revealing the king only confirmed the kingdom's spare capacity but never agreed to meet demands.
On Saturday, June 30, Donald Trump posted about his conversation with King Salman bin Abdulaziz Al Saud on his official Twitter account. The president wrote that he discussed "the turmoil & disfunction in Iran and Venezuela" leading to the need to increase oil production "maybe up to 2,000,000 barrels." The tweet concluded with Trump declaring that the leader of Saudi Arabia "has agreed" to his terms.
People were undoubtedly delighted with the announcement, thanking Donald Trump for his amazing contribution. However, one Twitter user was quick to point out that Saudi Arabia had insisted on the increase during a recent meeting with OPEC.
The White House has further clarified Donald Trump's claims by releasing a statement. According to the White House, the Saudi Arabia leader merely confirmed the kingdom's capacity for oil production but did not promise the said amount to the president.
"King Salman affirmed that the Kingdom maintains a two million barrel per day spare capacity, which it will prudently use if and when necessary to ensure market balance," the statement read. Unfortunately, there is already a negative effect on oil prices.
Just spoke to King Salman of Saudi Arabia and explained to him that, because of the turmoil & disfunction in Iran and Venezuela, I am asking that Saudi Arabia increase oil production, maybe up to 2,000,000 barrels, to make up the difference...Prices to high! He has agreed!

— Donald J. Trump (@realDonaldTrump) June 30, 2018
According to Reuters, oil prices are currently at an all-time high following the White House's statement. U.S. West Texas Intermediate crude for August delivery went up to $74.46, its highest since November 2014. In addition to that, London Brent crude rose to $78.68 since Donald Trump's announcement last week.
Donald Trump has also spoken up against OPEC by giving the organization a warning to stop manipulating oil markets. OPEC had previously agreed to a small increase in oil production at Saudi Arabia's persuasion.
© 2021 Korea Portal, All rights reserved. Do not reproduce without permission.