U.S. President Donald Trump Own A 'Strong Card' To Deal North Korea's Kim Jong Un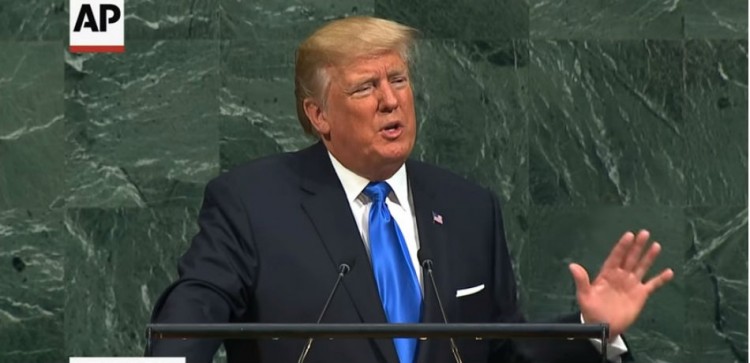 The United States President Donald Trump has recently claimed to have "a strong card" over the Korean peninsula as he has set his mind to meet the North Korea's dictator, Kim Jong Un. Even the Trump administration's maximum pressure campaign against North Korea is gradually working. This "working" can be defined by generating a milieu in which the Korean dictator is bound to withdraw his nuclear mission program.
In the previous week, the US President Trump took pride in a "strong card" that he holds in trade conversations with South Korea. There is a probability that he can postpone a future agreement until North Korea gladly emerges with a deal with the US on denuclearization.
"Just this week we secured a wonderful deal with South Korea. We were in a deal that was a horror show. It was going to produce 200,000 jobs, and it did, for them. That was a Hillary Clinton special, I hate to say," Trump said, as reported by Express.
Addressing to Clinton, he said that she was right that this would produce 200,000 jobs but not for the Americans. Hence, the strategies have been made in a new way that "is going to level the playing field on steel and cars and trucks coming into this country."
He directly said that he could hold it up till a deal on denuclearization is made with North Korea. He continued saying that people may think why he is holding it up. It is a very strong card and he wants to ensure that everyone is treated fairly and the nation is moving along very nicely with North Korea. "We will see how it all turns out and maybe it will be good and maybe it won't," Trump added.
Trump seems to be the perfect leader to handle the fanatic dictators like Kim Jong Un. This time Trump has given warning to him stating that if his terms are not met and solved through conversation with North Korea, the US would simply move away from the table, ramping up the fears of the third world war.
However, North Korea's supreme, Kim Jong Un has been advised by his ministerial experts to simply be in talks with President Trump for driving a wedge between both the nations.
© 2020 Korea Portal, All rights reserved. Do not reproduce without permission.