Park Min Young & Park Seo Joon's Ramen-Kimchi Combo In 'What's Wrong With Secretary Kim' Gains Popularity Among Netizens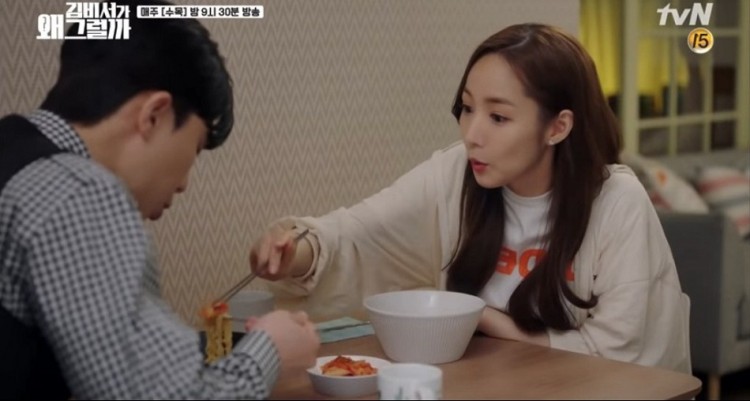 As things are heating up between Lee Young Joon and Kim Mi So in What's Wrong With Secretary Kim, fans of the K-drama around the world are going crazy about the couple's favorite food. The craze is on Vice President Lee and Secretary Kim's ramen-kimchi combo, and everyone is waiting for their next bowl of noodles.
Both noodles and kimchi are well-known Korean dishes. The pickled cabbage Kimchi is usually served alongside almost every Korean meal. So why not with noodles? The food combination is not new to Koreans and foodies alike.
The dish Budae Jjigae or "Army-base stew" is actually a fusion soup made of sausages, Spam, ramen, and kimchi. This dish is available in many Korean restaurants in the U.S.
The combination of noodles and kimchi, however, is gaining more buzz lately because of the popularity of Park Min Young and Park Seo Joon's TV series. In tvN's What's Wrong With Secretary Kim, Mi So (Park Min Young) introduced eating ramen and kimchi at the same time with her boss Lee Young Joon (Park Seo Joon). Mr. Lee has loved the tasteful blend of the ramen and spicy kimchi since then.
Many netizens who watched What's Wrong with Secretary Kim Episode 5 when Mi So's narcissist boss ate his first ramen-kimchi combo admitted that they had tried the combination, too. Some said the spicy food fusion becomes sweeter to them after watching the episode. Others crave for more every time they remember Park Seo Joon slurping his noodles on the small screen.
While waiting for the couple's next bowl of noodles, you can have your own as it easy to make since Korean noodles and kimchi are both readily available in the market. Additionally, there are varieties of instant kimchi ramen soup bowls on most supermarket shelves in the U.S. But, if you feel short of the kimchi flavor in the broth of an instant noodle bowl, better head to a restaurant. Order ramen and kimchi and combine the two.
To satisfy your Young Joon-Mi So moment even more, share it with someone special. Meanwhile, check out What's Wrong with Secretary Kim to see how Vice President Lee and Secretary Kim enjoy their bowl of ramen and kimchi. The K-drama airs every Wednesday and Thursday at 9:30 p.m. KST.
© 2020 Korea Portal, All rights reserved. Do not reproduce without permission.