2PM's Taecyeon, Junho, Wooyoung, Nickhun, Chansung, Jun K. Reunite For Sexy Event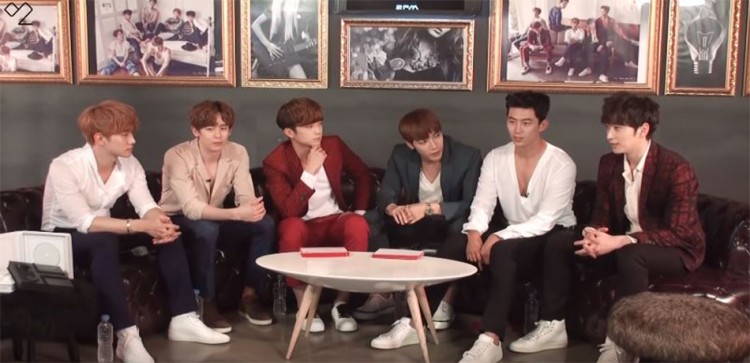 2PM recently surprised avid fans with a special event. Taecyeon and Jun K., who are currently completing their mandatory military service, reunited with their band members Junho, Wooyoung, Nickhun, and Chansung.
After several months of pursuing their own projects and activities, the six K-pop idols that comprise 2PM sat down together to give loyal fans a special treat. The sextet took to Naver's V app on July 1 to show their sexy and cute sides. Taecyeon, Junho, Wooyoung, Nickhun, Chansung, Jun K. started the video update with a challenge to give a sexy greeting to viewers.
Chansung lowered the tone of his voice as he relayed his greetings while looking intently at the camera. Taecyeon, who was wearing a white shirt with a deep V neckline, also gave a deep-toned greeting. Taking advantage of his revealing top that exposed a wide expanse of his upper chest, the said 2PM band member slowly placed his hand inside his shirt as he gazed sexily at the camera.
The Let's Fight Ghost actor's sexy approach was immediately stopped by his 2PM band members who labeled it too suggestive. Despite being called out for his behavior, Taecyeon just brushed off the comments and laughed over the situation.
Given the effectiveness of Taecyeon's sexy approach, Jun K. tried to mimic the rapper's actions. Removing his gray coat, the singer revealed his V-necked white colored shirt to show off his chest and arm muscles.
Unlike the three 2PM band members, Nickhun decided to do something different to greet avid fans. After saying hello with a bright smile, the singer gave viewers a flying kiss while cutely closing his eyes. Meanwhile, Junho and Wooyoung followed Chansung's deep-toned greeting and conveyed their appreciation to fans with a sexy look in their eyes.
The said event marked the first time that the six-member band reunited after Taecyeon and Jun K. entered the military to start their mandatory two-year service. Another 2PM singer will soon join the two K-pop idols with Wooyoung set to enlist on July 9.
2PM's Taecyeon and Jun K. started their military service in September 2017 and May, respectively. Apart from Wooyoung, the remaining members of sextet are also expected to enlist sometime this year.
© 2023 Korea Portal, All rights reserved. Do not reproduce without permission.