Julien Kang, Red Velvet's Seulgi Dating Rumors: French Model Says The Truth Behind Hearsays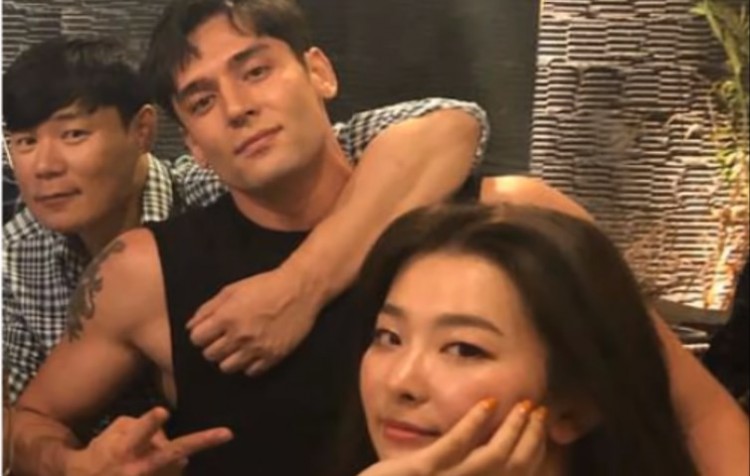 There are now swirling rumors that Julien Kang and Red Velvet's Seulgi are allegedly dating because of a photo. The French-Korean model shared a snap of the Law of the Jungle stars' get-together on his Instagram account, and netizens can't help but notice the two.
In the picture, Julien Kang and Seulgi were sitting next to each other. Fans believed that the Red Velvet member was leaning on the 36-year-old actor. Some even said that behind the camera, they looked very comfortable with each other.
According to Koreaboo, there is another intimate photo, which has been deleted, showing Julien Kang and Seulgi. Hence, the dating rumors between the two just get stronger. Their alleged relationship even makes more fans interested that they ended up looking for more clues in episodes of Law of the Jungle. So, is there really something special between the two?
Julien Kang's Instagram account is filled with questions about his alleged relationship with Seulgi. So to stop all the assumptions, Denis Kang's younger brother finally answered all the allegations by saying, "She's like my little sister."
With a 12-year age difference, it is not surprising that Julien Kang only sees Seulgi as his younger sibling. In fact, some netizens believe that the rumors are just misguided. They even said that the hearsay between the two is baseless and immature, while others still believe it.
One netizen explained that SM Entertainment, Red Velvet's agency, is not that strict about dating rules. So, Seulgi can do anything she wants as long as she still works professionally. The fan also added that Law of the Jungle is more like a dating game than a survival reality show; thus, the dating rumors between Seulgi and Julien Kang are not far from happening.
"This was so ridiculous," another fan commented. This fan was surprised by the dating rumors surrounding Seulgi and Julien Kang just because they were seen sitting next to each other. "Please stop. Because of these Julien and Seulgi will be awkward to each other," another one said. A netizen even pointed out that the Red Velvet member was not leaning on Julien and it was just the camera's angle.
© 2019 Korea Portal, All rights reserved. Do not reproduce without permission.