Super Junior's Heechul Reveals He & Bandmate Donghae Dated & Dumped By The Same Girl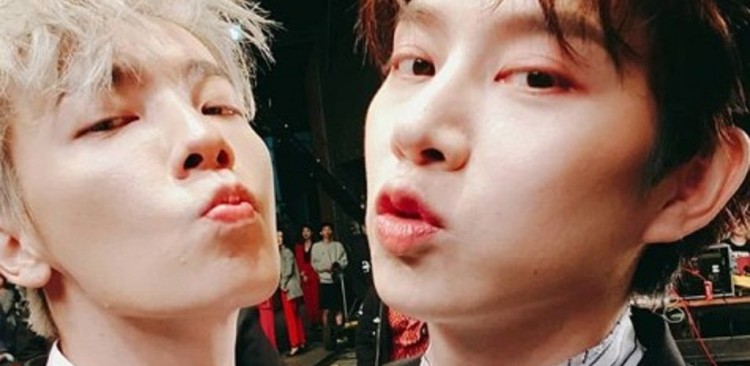 Super Junior Heechul made a dating revelation about himself once again, but this time it involved his bandmate Donghae. Heechul has been known for sharing some of his dating adventures in his shows. The latest of which is about dating the same girl Donghae did.
In the recent episode of JTBC's Ask Us Anything, cast member Heechul revealed that he and Donghae dated the same girl at the same time. Heechul made the revelation during the guest appearance of Apink in the show. The cast first asked the K-pop girl group about the promise they made to each other.
Heechul's guess is that it that could be about not stealing each other's boyfriends. Then, the Super Junior idol added that he and his band members also talked about dating the same person since it could happen to them.
Apink's Bomi then asked Heechul if they have experienced dating the same girl. Heechul previously revealed on his tvN show Life Bar that two members of their band unknowingly dated the same woman.
"Of course. We have 13 members, so there's no way it wouldn't overlap. For example, if there was someone named 'Bomi,' I said, 'Hey Donghae. I really like Bomi.' He replied, 'Oh no, I like Bomi too.' There was a time when something like this really happened," Heechul admitted.
When Ask Us Anything fellow cast member Kang Ho Dong asked why Heechul used Donghae as an example, the idol admitted that he and Donghae had been in a similar situation in the past. Heechul did not drop the girl's name. Instead, he used Jung Eun Ji's name in recalling the incident and how they found out that they are both interested in the same girl.
"I went on a date with Eunji. One day when I called her, she was busy. I lived with Donghae at the time, but then, Donghae went out. When I asked him if he went out, he'd say, 'Yeah I was out,' then I'd go out the next day. We went out on dates like this same person.
"One day, something felt weird so I asked him if he liked someone. While talking, we realized that it was the same person," Heechul said.
As some point, the girl asked Heechul if he and Donghae are playing games with her as the Knowing Bros cast member always talks about his bandmate and Donghae does the same for Heechul. He said what they did was to help each other with the girl. In the end, however, both of them were dumped on the same day. Since then, he and Donghae became close friends.
Heechul previously admitted that he dated several Korean artists in the past. He was rumored to be dating a model named Ivy and was also linked to Girls' Generation member Taeyeon in 2013.
Heechul also previously admitted that he is a big fan of K-pop group Wonder Girls' former member Ahn So Hee as well as K-pop band Davichi member Kang Min Kyun. He also likes women who don't have double eyelids like Gugudan's Mina.
© 2023 Korea Portal, All rights reserved. Do not reproduce without permission.