BLACKPINK's Jennie Dubbed As 'Female G-Dragon,' Jisoo, Rose & Lisa's Bandmate Took Title From Former 2NE1 Star CL [WATCH]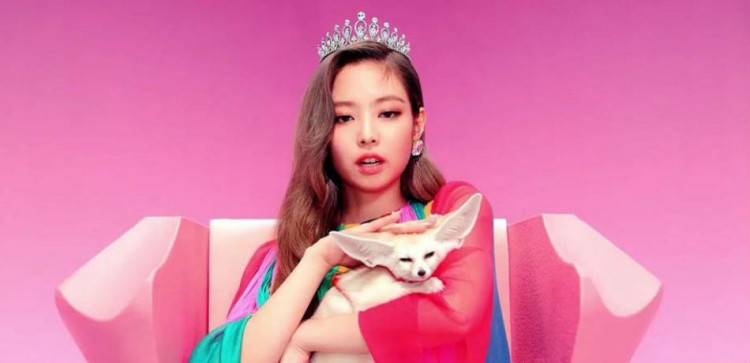 BLACKPINK has definitely been unstoppable ever since they debuted back in 2016. Every time Jisoo, Jennie, Rose, and Lisa made a comeback, it's always a certified all-kill. Now, Jennie is being dubbed as the female version of BIGBANG superstar G-Dragon. This title previously belonged to former 2NE1 singer CL.
BLACKPINK had a very successful comeback with their record-breaking "DDU-DU DDU-DU" single, and now the girls are busy promoting their new album in television and radio guesting. Jisoo, Jennie, Rose, and Lisa recently went on a poolside interview for Night of TV Entertainment, where they talked about their album and plans.
YG Entertainment artists are not only known for their music but also for their fashion. In fact, BIGBANG's G-Dragon is considered a fashion icon, not only in South Korea but in other parts of the world as well.
So when Jennie was called the "Female G-Dragon" by the show's host for her impeccable style, the BLACKPINK singer laughed at first, but then appreciated the compliment. The comparison is such a huge deal since the BIGBANG frontman is considered a top celebrity in the industry.
Jennie then went on to explain that she had been a fan of fashion ever since she was young. The BLACKPINK singer also added that the reason why people like what she wears is because she also likes them. This goes to show that her confidence completes her look that made her fashion game successful each and every time she appears on stage, interviews, red carpets, and more.
"I've been reading fashion magazines and looking at different clothing styles since I was a girl," Jennie revealed. "I like what I wear, so I think that's why people like it too."
Former 2NE1 star CL was previously dubbed as the female version of G-Dragon. However, the comparison was more about their performances on stage rather than their fashion.
After 2NE1 disbanded in 2016, many believed that BLACKPINK's Jisoo, Jennie, Rose, and Lisa were the new queens of YG Entertainment. The last time a Korean girl group got this much love from K-pop fans was at the peak of CL, Bom, Dara, and Minzy's career.
© 2023 Korea Portal, All rights reserved. Do not reproduce without permission.
Tags:
BLACKPINK
,
Black Pink
,
blackpink jennie
,
black pink jennie
,
BIGBANG
,
Bigbang G-Dragon
,
G-Dragon
,
2NE1
,
2NE1 CL
,
Kpop
,
K-pop