BLACKPINK's Jisoo Reveals People Only Care About Her Celebrity Persona & Not Her Ordinary Self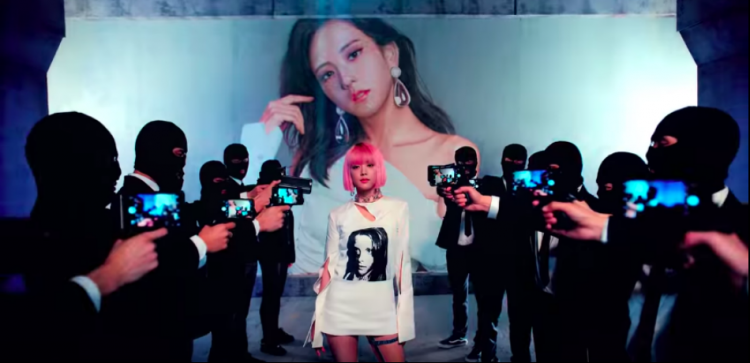 BLACKPINK just had a mega-successful comeback with their record-breaking "DDU-DU DDU-DU" single that catapulted Jisoo, Jennie, Rose, and Lisa to superstardom. However, Jisoo explained that one particular scene has a really deep meaning, and it has something to do with their popularity.
One of the scenes in BLACKPINK's "DDU-DU DDU-DU" music video showed Jisoo rocking a pink wig, but nobody appeared to have noticed her. People were so enamored by her celebrity status and were busy taking a photo of her huge, glammed-up portrait in the background, failing to realize that the real person is just right in front of them.
BLACKPINK's Jisoo explained that both personas are versions of herself. One is her as a celebrity, and the other one is her as an ordinary person.
"So even when I'm walking right in front of them, they just point their cameras at my picture on the wall," Jisoo explained during BLACKPINK's appearance on Arirang TV's Pops In Seoul. "People are only crazy about my celebrity look."
But when the "ordinary" Jisoo accidentally tripped, it gathered a lot of attention. In fact, all of the people who were admiring her portrait earlier suddenly directed their camera phones at her. However, their phones were turned into guns.
The metaphor behind this scene is that although in reality, people are just using their cameras to shoot her, there were moments that made her feel that she was shot by a gun because she felt attacked. Jisoo went on to say that people only care about her celebrity persona and would only show interest if her ordinary self-messed up.
"As soon as I fall down though, they point their cameras at me as though they are about to shoot me," Jisoo shared. "They show interest in me when I'm a celebrity and are about to shoot me when I'm down."
Jisoo's explanation just goes to show how hard it is to be a celebrity. People usually think that being rich and famous is the best feeling in the world, but the BLACKPINK singer revealed that being a part of the entertainment world is not all rainbows and butterflies at all.
© 2023 Korea Portal, All rights reserved. Do not reproduce without permission.