'Are You Human Too' Episodes 13-14 Spoilers: Seo Kang Joon Uncovers A Lie, Robot Secret In Jeopardy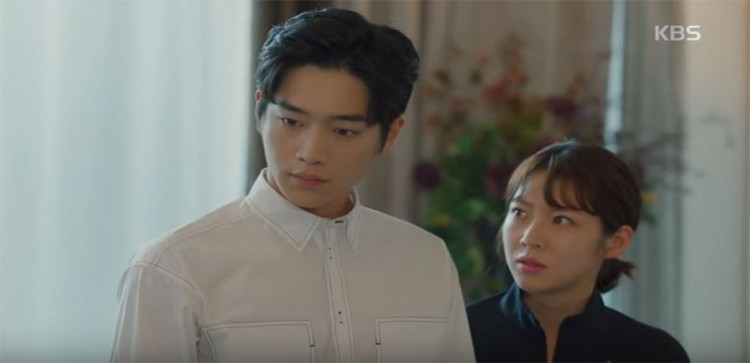 The revelation of a secret might threaten to jeopardize well-laid plans and unearth a conspiracy between beloved characters. In the upcoming Are You Human Too Episodes 13-14, Nam Shin III (Seo Kang Joon) will need to exert extra effort in hiding his robot identity as he deals with his grandfather's medical condition.
Several key characters were made privy to Yun Ho's (Park Young Gyu) dementia secret in Are You Human Too Episodes 11-12. After witnessing Nam Shin's grandfather mistaking his grandson for his deceased son, Ye Na (Park Hwan Hee) promised to keep the information to herself. Desperate to stay close to Nam Shin to become his future wife, the hopeful bride assured her intended fiancé and Young Hoon (Lee Joon Hyuk) that she would convince her father that the elderly businessman is healthy.
However, Jong Gil (Yu Oh Seong) secretly witnessed Yun Ho's dementia attack and relayed the information to his partners and supporters at the office. Unbeknownst to Ye Na and Nam Shin III, he also received confirmation of Yun Ho's medical condition from the said businessman's own daughter Ho Yeon (Kim Hye Eun). In a secret meeting, the two characters decided to work together in order to secure a better future for themselves and their children.
In the upcoming Are You Human Too Episodes 13-14, Ho Yeon will even provide Jong Gil with a medical document to prove Yun Ho's failing mental health. However, the two characters' plan to discredit the said elderly businessman's reputation at the office might be derailed. It appears that Nam Shin's grandfather could be hiding a secret of his own.
In a surprise plot twist, Nam Shin III accidentally found out that Yun Ho is not suffering from dementia. The robot's internal lie detection system registered a false information hit when the former held the latter's hand as he told him of his sickness.
So Bong (Gong Seung Yeon) will also need to be creative in helping keep Nam Shin III's robot secret in the upcoming Are You Human Too Episodes 13-14. With Nam Shin III's battery nearly depleted and a furious Ye Na preventing her from coming close, the former mixed martial arts athlete will be forced to confront Jong Gil's daughter to prevent the robot from shutting down.
Meanwhile, Are You Human Too recently bested its own TV ratings record. The Seo Kang Joon drama's eighth episode registered a viewer share of 9.9 percent across the South Korean nation and a rating of 9.8 percent in the Seoul metropolitan area, according to Nielsen Korea.
The drama's premiere episode also debuted at the top the Content Power Index. For the week of June 4-10, the sci-fi romance series landed at first place with a score of 272.1.
Are You Human Too Episodes 13-14 will be released back-to-back on June 26. The drama airs every Monday and Tuesday on KBS.
© 2019 Korea Portal, All rights reserved. Do not reproduce without permission.