'Are You Human Too' Episodes 11-12 Spoilers: Surprise Kiss Changes So Bong's Heart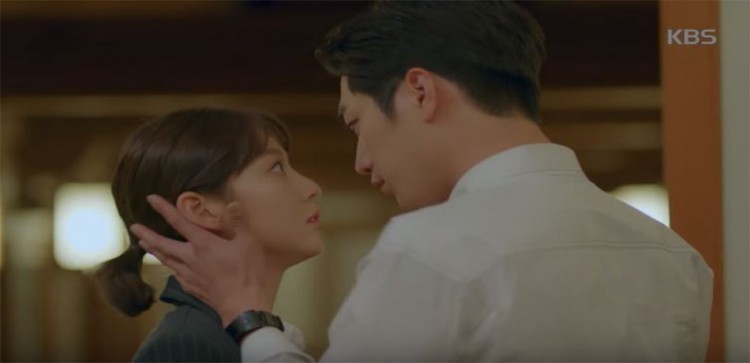 Beloved characters of KBS' sci-fi romantic series will be busy doing damage control following an incident that surprised everyone. In the upcoming Are You Human Too Episodes 11-12, So Bong (Gong Seung Yeon) will find herself in a complicated situation involving the robot Nam Shin III (Seo Kang Joon).
Are You Human Too Episode 10 ended in a romantic cliffhanger where Nam Shin III decided to follow a classic K-drama scenario to address a problem. After Young Hoon (Lee Joon Hyuk) subtly signaled the said robot to refuse Ye Na's (Park Hwan Hee) marriage offer, Nam Shin III quietly did an internal internet search on how to break up with a girl.
After a quick browsing activity that included watching several snippets of K-drama betrayal and break-up scenes, Nam Shin III decided to follow the internet's advice. Looking at how K-drama characters would kiss another person in order to break the heart of another, the robot suddenly pulled his bodyguard So Bong into his arms to mimic the said scene.
In the upcoming Are You Human Too Episodes 11-12, Nam Shin III will have to face the consequences of his actions. The romantic scene will even further enrage Ye Na's father Jong Gil (Yu Oh Seong) who has been trying to sabotage Nam Shin's place in the company.
The teaser clip for Are You Human Too Episodes 11-12 also featured a tense confrontation between Nam Shin III and So Bong. Clueless at how the kiss would affect his bodyguard, the robot will retain his cheerful self while chasing after a furious So Bong. However, the former will have a change of heart and will agree to continue helping the latter but only if he agrees to become her robot slave.
Nam Shin III's attentiveness will also force So Bong to see him in a different light. The bodyguard will even become uncomfortable with the said robot's closeness given her slowly blossoming feelings for him. Avid viewers can also look forward to seeing another romantic moment between the two characters in Are You Human Too Episodes 11-12 with So Bong initiating the kiss.
Meanwhile, Are You Human Too topped a popularity index when the KBS drama premiered in early June. The Seo Kang Joon drama scored 272.1 points on the weekly Content Power Index, according to data from CJ E&M and Nielsen Korea.
The KBS drama also recently recorded its highest viewership share with ratings nearly reaching 10 percent. Are You Human Too Episode 8 that aired on June 12 posted an average viewership share of 9.9 percent across the South Korean nation.
Are You Human Too Episodes 11-12 will be released back-to-back on June 25. The drama airs every Monday and Tuesday on KBS.
© 2019 Korea Portal, All rights reserved. Do not reproduce without permission.