BTS 2018: Know V, Suga, Jin, Jungkook, RM, Jimin, J-Hope's Dating Life & What They Like In Women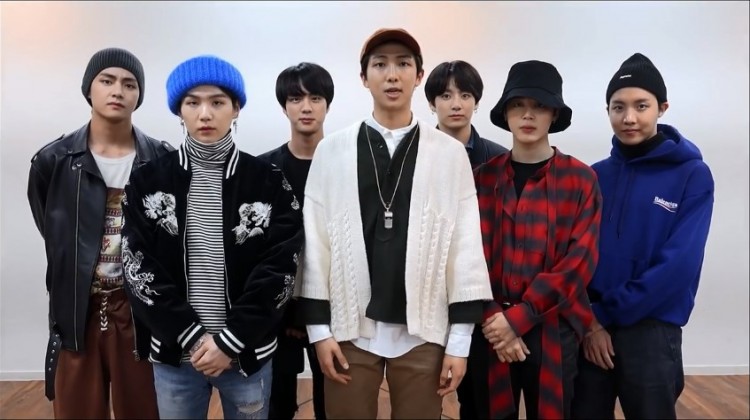 With their busy schedules, the BTS boys might have no time to go on dates every now and then. In fact, there are no talks if V, Suga, Jin, Jungkook, RM, Jimin, and J-Hope have their respective girlfriends. As the ARMY is interested to know their favorite idols' love life, here is a glimpse of the "Fake Love" hitmakers' dating life, what they can say about it, and their ideal women.
Recently, BTS had an interview with Access, via Koogle TV, and talked about their dating life. As expected, RM revealed that they are putting their sole attention to their careers; thus, they don't have the time to go on a date. On the other hand, J-Hope joked that they are only dating each other. So, doesn't BTS go on a date?
BTS RM
Fans suspect RM has a secret girlfriend, per Koreaboo. In BTS's interview with Billboard in 2017, the way he described the song "Outro: Her" seemed to be implying he has an unrevealed relationship. At the time, the interviewer asked if the album Love Yourself: Her was really introspective.
"It just came, very truthfully, from the bottom of my heart," RM said. He then described that the song is about the person he loves, and in spite of his confusion, she is his answer. The BTS member's kind of girl is smart, feminine, and sexy. Also, he likes girls who don't smoke or go to clubs and looks good in casual outfits.
BTS Jin
Jin and Lee Guk Joo were once rumored to be dating. The hearsays about the two started when Jo Se Ho revealed that Lee was dating an idol trainee. To add fuel to the fire, fans learned that the two were close to each other. However, Lee denied all the rumors about them on Radio Star and said that the BTS member was "never her boyfriend" at all.
The hearsays between the alleged couple got strong when Jin revealed that he likes chubby girls. Aside from that, the BTS singer likes a woman who has a "puppy-like face and personality." Also, he likes girls who know how to cook and have a good heart.
BTS Suga
Suga has been the talk of the town when he revealed that he is also "attracted to boys." In fact, in an interview with Oricon Style in 2014, the BTS member admitted that he has no "ideal type" and "it is not limited to girls."
The 25-year-old star then admitted he is not in a relationship at the moment because of a number of reasons. One of his reasons is he doesn't need a girlfriend, he is serious about his job and busy working on his music. The traits he likes on a person are its "personality and atmosphere."
BTS J-Hope
J-Hope admitted that he had a girlfriend when he was in high school. But after that, it remains to be unknown if the BTS member has been in another relationship again.
Talking about his ideal type, J-Hope likes a girl who loves to read, knows how to cook and good at it, and loves to take care of others. The BTS rapper also added that he wants his future girl to support him and "only think about him."
BTS V
Unlike other BTS members, V admitted that he had a number of girlfriends in the past. However, none of his relationships at the time were serious.
V likes a girl who seems to be cold but actually has a good heart. He also likes to date a kind of woman who can help him to manage his money and has a big respect for her parents.
BTS Jimin
Jimin has faced several rumors about dating fellow idols, although none of them were proven to be true. In fact, the BTS singer never admits to dating anyone. He never even said that he has been in a relationship.
But, Jimin likes a girl who is a "bit silly" and shorter than him. Even though he doesn't know someone yet who has the same traits, the BTS member is pretty sure that the right girl will soon come his way.
BTS Jungkook
Before he was formally introduced, Jungkook had several "rumored girlfriends." One of them was said to be the BTS member's classmate named Park Se Won. Although there was evidence to prove this claim, their alleged relationship was never confirmed.
Jungkook likes a woman who has a "healthy body" and intelligent. He also wants this girl to be a good singer and has great cooking skills. The BTS member also wants his future girlfriend to be as competitive as him.
© 2019 Korea Portal, All rights reserved. Do not reproduce without permission.