Jamie Dornan Reveals He Learned A Lot About Seduction & Intimacy From 'Fifty Shades Freed' Actress Dakota Johnson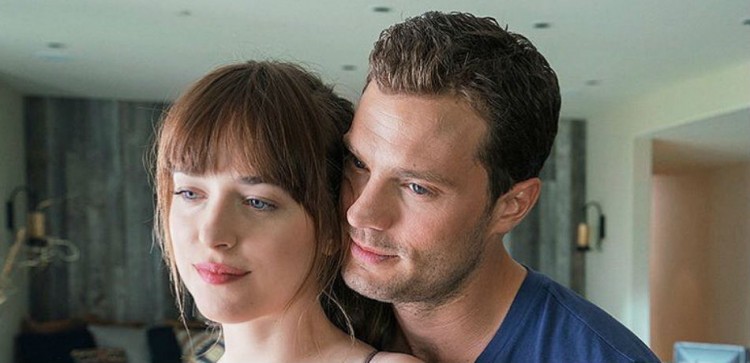 Jamie Dornan and Dakota Johnson may already be friends before taking their roles as Christian Grey and Anastasia Steele in the Fifty Shades franchise, but they have bonded after working together in the erotic trilogy. The Fifty Shades Freed stars are so comfortable with each other that they talk about everything under the sun, including sex.
The 36-year-old Irish actor, model, and musician previously revealed to Conan O'Brien that although he is older than Dakota Johnson, the Fifty Shades Freed actress still managed to teach him a thing or two about seduction and intimacy. Jamie Dornan then recalled how the 28-year-old actress and model taught him what to do in one of their earlier sex scenes.
"I feel like there are times where maybe Dakota would be quicker to give me a note than the director," Jamie Dornan said. "In terms of like, sometime in the first movie, I guess there's a sexy way to take off a girl's underwear that isn't just like [grabs]... But there is a more delicate and sensual way to do that which is thumbs into the side and then you sort of shimmy it down."
Jamie Dornan and Dakota Johnson's undeniable chemistry led fans to ship the pair despite the actor being married to Amelia Warner. Dating rumors also started to swirl in the hopes of the Fifty Shades Freed co-stars to take their on-screen romance to off-screen.
After being heavily shipped to each other, Jamie Dornan and Dakota Johnson denied all whispers and speculations that there's something romantic brewing between them. In fact, the two are such good pals that the actor couldn't keep a straight face when saying Christian Grey's vow to Anastasia Steele in Fifty Shades Freed.
"It's very strange saying vows to someone when it's not real. When we were rehearsing it, we were sort of giggling quite a lot, because it just seemed so silly," Jamie Dornan said, revealing that Dakota Johnson felt the same way as well. "But then, obviously, by the time the cameras were rolling we were in character, and it was fun."
Jamie Dornan also shared before that his and Dakota Johnson's real-life relationship is that of siblings. As it turns out, the chemistry that the viewers see on the big screen is just a result of two friends with fantastic acting skills.
© 2019 Korea Portal, All rights reserved. Do not reproduce without permission.