'Outlander' Season 4: Tobias Menzies' Frank Randall Returns For An Important Moment With Caitriona Balfe's Claire & Sophie Skelton's Brianna?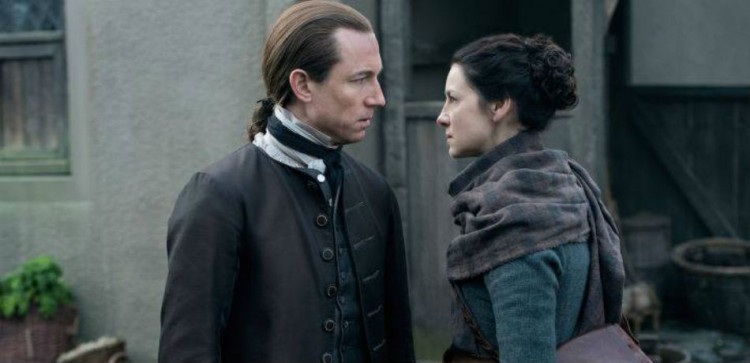 WARNING: Outlander Season 4 spoilers and predictions ahead!
Outlander Season 4 leaked photos revealed a shocking twist that will happen in the upcoming installment of Sam Heughan and Caitriona Balfe's historical time travel series. Although Tobias Menzies return was never officially announced, photos of him on the set confirmed that he is back on the show. What could be his purpose?
The 44-year-old English stage, television, and film actor is set to reprise his role as Claire Beauchamp Randall's (Caitriona Balfe) husband, Frank Randall. While Frank is dead at this point of the show, Tobias Menzies was spotted filming at a harbor, confirming his return in Outlander Season 4.
Since Frank's death is confirmed at the moment, the only way he could still be a part of Outlander Season 4 is through a flashback. The return of Tobias Menzies' character will possibly be a significant moment to Claire or Brianna's life.
The Outlander Season 4 leaked photos also showed the presence of Sophie Skelton, who plays Frank's adoptive daughter Brianna. IBTimes claims that the only plausible explanation of seeing Tobias Menzies and Sophie Skelton on set together is that "Brianna will travel through the stones for some reason, and she may see her father's vision after traveling back in time."
Meanwhile, Tobias Menzies previously shared that it wasn't a shock to him when his character was killed off because they already knew that Frank would die. The Outlander Season 4 actor said that the more exciting part is finding out how it happens. He also talked about Frank and Claire's marriage.
"We had a lot to pack in for these first three episodes, because the story spans about 20 years, as Brianna is born and grows up, and the marriage goes through all these different phases," Tobias Menzies said at the time. "We have hope with Brianna's arrival, and then when that doesn't bring a new beginning for them, we go through the rage, disappointment, hurt and anger and then settle into something more resigned."
Outlander Season 4 is set to premiere in November. Starz has yet to announce the exact release date of Sam Heughan and Caitriona Balfe's series.
Thanks to @MrsSpigget for finding the youtube video and that #TobiasMenzies is back .

The lady calls out Frank / Toby Tobias and he answer her. pic.twitter.com/q6LsNGWSYY — Tobias Phallus (@TobiasPhallus) May 18, 2018
© 2023 Korea Portal, All rights reserved. Do not reproduce without permission.