'Outlander' Season 4 News & Update: Sam Heughan & Caitriona Balfe Not Getting Along? Actress Calls Co-Star 'Rude'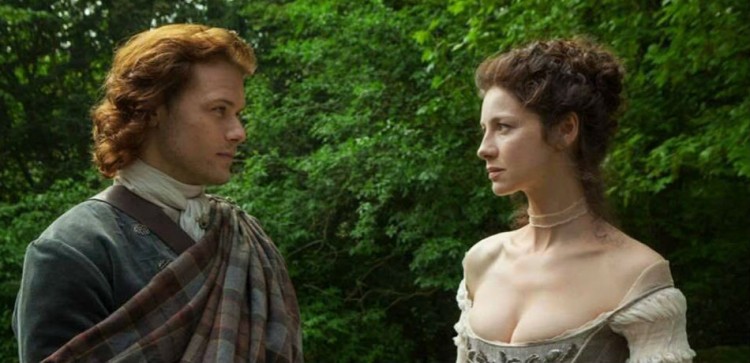 Sam Heughan and Caitriona Balfe have long been rumored to have taken their on-screen romance to off-screen. In fact, even though the Outlander Season 4 actor already confirmed his real-life romance with Mackenzie Mauzy, fans still can't get over their incredible chemistry. But the actress' earlier remark seemingly reveal the change of the status of their friendship. Are they not getting along anymore?
The 38-year-old Scottish actor and Caitriona Balfe (Claire Fraser) are known for their hilarious and flirtatious exchanges on social media. However, one particular tweet shocked fans and also made them scratch their heads regarding Sam Heughan (Jamie Fraser) and the 38-year-old Irish actress' current relationship.
Sam Heughan took to Twitter back in February to share a video of the Outlander cast and captioned it: "Pearl necklace anyone?" Just a few hours later, Caitriona Balfe replied "RUDE !!!" While fans normally understood what the Outlander Season 4 stars were talking about in the past, this tweet was a little bit strange.
First of all, why did Sam Heughan and Caitriona Balfe look awkward when talking about the pearl necklace that Jamie gave Claire in the video? Second, why would the actress find her TV husband's comment rude? When questions poured in in the comments section, one fan explained what their exchange was all about.
"Can you explain that to me. I do not catch the subtle meaning," one asked. "Just [Google] 'pearl necklace meaning' like I did," a Twitter user said.
After people followed the fan's suggestion, many were shocked about it and understood why Sam Heughan and Caitriona Balfe reacted the way they did. "OMG I didn't understand!!!!!! I just Google[sic] it," one fan said. "I didn't know 'pearl necklace' had another meaning but... I noticed him and Cait struggling to keep their straight face and I wondered why. So I [googled] and...voilà," another one commented.
As it turns out, Sam Heughan and Caitriona Balfe took their flirtation to the next level with the NSFW Valentine's Day joke. This is exactly the reason why fans can't get enough of the co-stars because their tandem is so easy and effortless.
Our #Outlander cast + talk of romantic gestures = ALL THE FEELS. Happy #ValentinesDay, clan! pic.twitter.com/CcIaFPsh1O — Outlander (@Outlander_STARZ) February 14, 2018
Outlander Season 4 is set to premiere in November. Starz has yet to announce the exact date of the release of Sam Heughan and Caitriona Balfe's historical time travel series.
© 2023 Korea Portal, All rights reserved. Do not reproduce without permission.