'Outlander' Season 4 Theories & Spoilers: Frank Returns; Possible Reasons Of His Comeback Revealed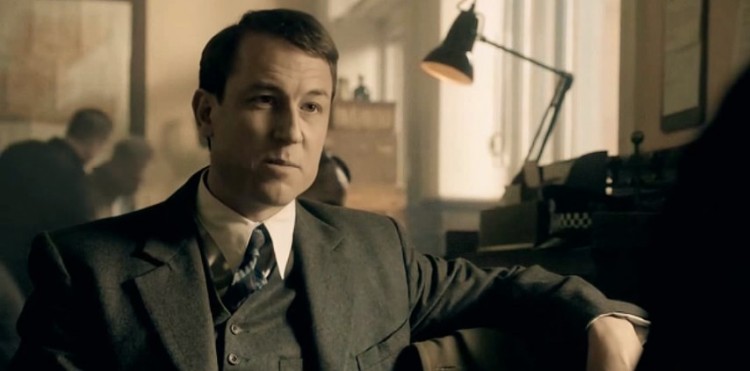 It looks like someone is set to be back in Outlander Season 4. In the leaked photos from the television series' ongoing production, Tobias Menzies has been spotted filming and once again portraying his role as Frank Randall.
The Reason For Frank's Return In
Outlander

Season 4

In the leaked snaps, Tobias Menzies can be seen wearing Frank's usual outfit—a long overcoat, hat, and thick glasses. However, as the 44-year-old actor's character as both Jonathan and Frank already died in the previous season, it is now a big question how he could return to Outlander Season 4.

There is a big possibility Outlander Season 4 is going to feature flashbacks that involve Frank. In fact, the television series', which is based on Diana Gabaldon's novel series with the same title, Season 1 was filled with flashes showing Claire (Caitriona Balfe) and Frank getting married, while the former was about to tie the knot with Jaime (Sam Heughan).

The previous season also featured a lot of flashbacks when Jamie was trying to remember what happened in the Battle of Culloden. The book series itself is full of flashbacks involving Brianna (Sophie Skelton) and her father. To prove this claim, in one of the Outlander Season 4's leaked pictures, Skelton can be spotted.

Additionally, the series' developer, Ron D. Moore, even hinted at the return of Tobias Menzies in the upcoming new installment. So, with all the possibilities, fans might once again see Frank in Outlander Season 4, FanSided reported.
Thanks to @MrsSpigget for finding the youtube video and that #TobiasMenzies is back . The lady calls out Frank / Toby Tobias and he answer her. pic.twitter.com/q6LsNGWSYY — Tobias Phallus (@TobiasPhallus) Mayo 18, 2018
Different Scenes Frank Has Been Seen In In
Outlander

Season 4

There are a number of Outlander Season 4's leaked pictures involving Tobias Menzies now circulating online. In one snap, the Game of Thrones star was seen at the harbor. According to IBTimes, with that scene's different location, setting, and presence of another cast member, it might not be a flashback but another unseen sequence.

In another, Tobias Menzies was with an extra and the costume the latter was wearing seemed like it was from a different period, which was far different from Frank's timeline. In the third photo, Frank was seen with Brianna. This might be an indication that the latter will travel through the stones just like her mother, and she might see some visions of her father.

© 2023 Korea Portal, All rights reserved. Do not reproduce without permission.