'Dragon Ball Heroes' News & Update: New Evil Saiyan Introduced; Other Characters Joining The Franchise Revealed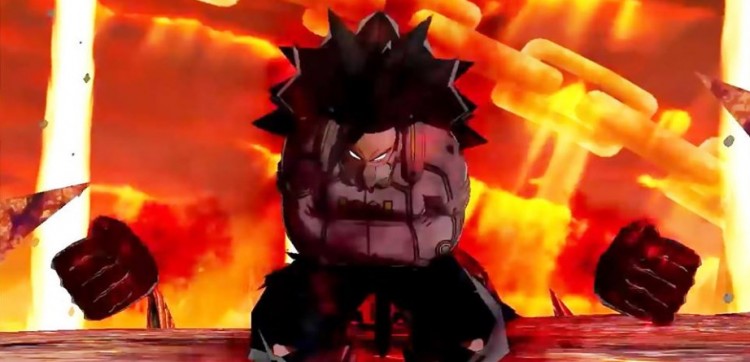 Fans are about to meet a new character joining the Dragon Ball world. Recently, an evil Saiyan was introduced as part of the Dragon Ball Heroes game. This new character is said to be the latest villain who will be seen joining the franchise.
In a Twitter post by @DBReduxTDC, it revealed the looks of the evil Saiyan, and he seemed to be one that characters don't want to mess with. "The Evil Saiyan got a bio, and he's holding the 5-Star Ball," it captioned the photo.
As described by Otakuart, this new Dragon Ball Heroes character has a long hair like Raditz. He has white eyes and wears a straightjacket that is binding him. In regards to his powers, he has a strong one as Goku has to transform into his Super Saiyan Blue form to keep up their fight. Fans could expect to see more of this new villain in the future, facing the franchise's top fighters.
Meanwhile, a number of newly-revealed characters are recently introduced to join the Dragon Ball franchise—thanks to the new Dragon Ball Heroes and Dragon Ball Legends' promo artworks. In the Japanese arcade and card game, the latest protagonist and antagonists in Goku's world are revealed.
The Evil Saiyan got a bio, and he's holding the 5-Star Ball. pic.twitter.com/6V1oVzL3Om — Let's Go! TheDevilsCorpse (@DBReduxTDC) Mayo 10, 2018
According to Comicbook, the first one is the Dragon Ball Legends' protagonist, Shallot. He is a Saiyan from the past and wears blue armor. He, too, is believed to have a twin brother. The second one joining the upcoming game after being displaced in space and time is Zahha. He is a "magic-based" swordsman from the future.
Zahha has a cold behavior but helps Shallot with the use of his telekinetic sword-fighting style. He has green skin and wears a metallic helmet. Lastly, a new threat is about to come to the Dragon Ball Heroes with the Evil Saiyan. He is described to be a mysterious Saiyan and the master Fu's servant from the Prison Planet. His hands are full of dark energy that he is using to attack his opponents.
Aside from these new characters coming to the Dragon Ball franchise, the appearances of Broly, Future Gohan, Future Trunks, and Golden Cooler were earlier revealed. Future Trunks and Golden Cooler, Freeza's evil brother, will be seen in Dragon Ball Heroes' "Prison Planet" arc, which will soon have its own anime series.
© 2023 Korea Portal, All rights reserved. Do not reproduce without permission.