Song Hye Kyo 2018: Take A Look At The Strong Friendship Song Joong Ki's Wife & Ock Joo Hyun Have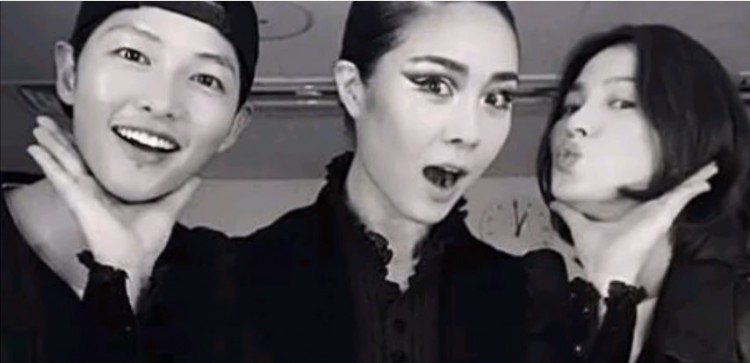 The star-studded wedding of Song Joong Ki and Song Hye Kyo was graced by the couple's close friends and family. One of them is the 36-year-old actress' best friend, Ock Joo Hyun. The close pals' friendship has stood the test of time as they remained good friends over the years. So, take a look at how far these mates have gone since they started their friendship.
Song Hye Kyo and Ock Joo Hyun first met at Eunkwang Girls' High School. They have known each other since their freshmen year. After 20 years, Song Joong Ki's wife and the Fin.K.L's former member are still the best of friends.
In fact, Ock Joo Hyun sang the congratulatory song at Song Joong Ki and Song Hye Kyo's wedding at The Shilla Seoul's Yeong Bin Gwan on October 31, 2017. The 38-year-old singer even cried when she saw her best friend walking down the aisle, finally getting married to the love of her life.
In an earlier interview on SBS PowerFM's Choi Hwa Jung's Power Time in January, Ock Joo Hyun revealed the truth behind her tears while singing at Song Joong Ki and Song Hye Kyo's wedding, per Soompi. "While I was singing, I saw Song Hye Kyo tearing up so I started to cry, too," she admitted. For the musical theater actress, the Song-Song couple's relationship is like a fairytale; thus, she opted to sing a mystical song—Aladdin's official soundtrack, "A Whole New World."
Ock Joo Hyun knows that her best friend is not the type of girl who cries often. So, the moment she saw the tip of Song Hye Kyo's nose getting red, she started to choke up. After just singing the song's first four lines, the singer stopped singing and started over again.
On the other hand, Song Hye Kyo showed how much she loves her friends on her Instagram account. In a post on November 9, 2017, Song Joong Ki's wife shared a black-and-white photo of her, Ock Ju Hyun, and Fin K.L.'s another member, Lee Jin. The snap was said to be taken at the Song-Song couple's wedding.
In the photo's caption, Song Hye Kyo recalled the time the first time they met when they were just high school freshmen. "Time flies, 20 years of friendship. Thank you and I love you," she ended the heart-warming note.
In fact, to prove how strong their friendship is, Lee Jin even flew back to Korea to attend Song Hye Kyo and Song Joong Ki's wedding. The 38-year-old South Korean actress has been living in the United States since she got married.
© 2023 Korea Portal, All rights reserved. Do not reproduce without permission.