North Korea Threatens To Blow Up U.S. Bombers; Claims That United States First Declared War
by
Elon A.
/ Sep 26, 2017 08:32 AM EDT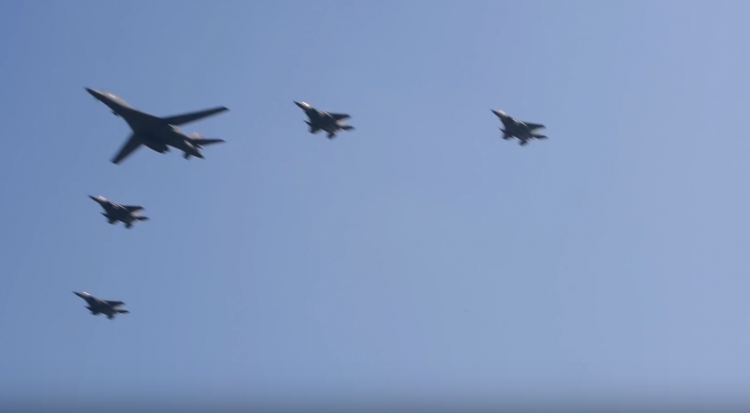 South Korea Yonhap news agency said on Tuesday that the North Korea appears to have advanced the country's defenses on its east coast. This is after North said that United States President Donald Trump had declared war. The opposing country said that it would shut down the U.S. bombers flying near the peninsula.
The tension between the two countries has escalated when the North Korea handled it's sixth and one of the most powerful nuclear test last Sept. 3. However, the exchange of words of both leaders has reached the stress on a whole lot of level. Both parties have fired threats and insults.
Thus, the North Korean Foreign Minister Ri Yong Ho said that Trump's mentioned that the Twitter comments of Trump, in which the U.S. leader said that Ri and leader Kim Jong Un "won't be around much longer." Thus, if they acted on their threats that will amount to a declaration of war, Pyongyang had the right to take the countermeasures.
However, Yonhap's report is unverified; it also said that the United States appeared to have disclosed the flight route of the bombers intentionally. It is because the North Korea seemed to be unaware. Thus, the South Korea's National Intelligence Service was not able to confirm the report immediately, according to Reuters.
As follows, Ri said on Monday the North's right to countermeasure includes shooting down the United States bombers even when it is not inside the airspace border of the country. While he was attending the annual United Nations General Assembly he told New York reporters that "the whole world should clearly remember it was the U.S. who first declared war on our country. The question of who won't be around much longer will be answered then," according to CBC news.
Meanwhile, the White House spokeswoman Sarah Sanders denied the statements on Monday. She implied that the United States did not declare war. She even called the suggestion "absurd."
© 2023 Korea Portal, All rights reserved. Do not reproduce without permission.