SISTAR Poses One Last Time For Cosmopolitan; Opens Up About Group's Peak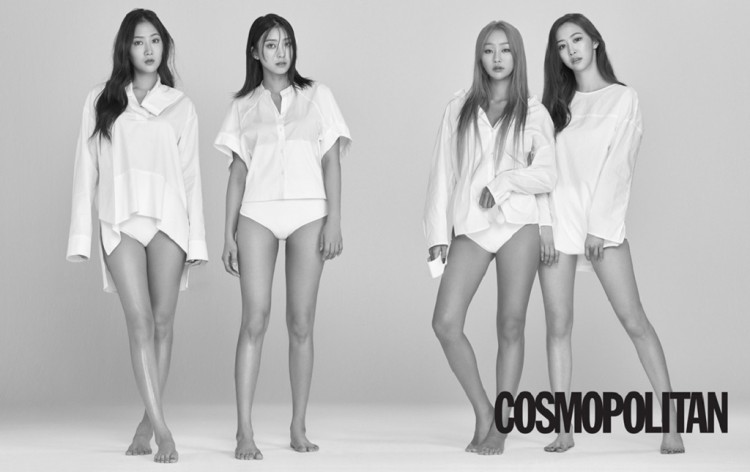 Cosmopolitan Korea has finally released the last photo shoot that SISTAR has taken as a group. The shoot was released in the June issue. During the interview portion, the girls were asked about the peak of their group.
SISTAR members Hyorin, Bora, Soyou, and Dasom looked stunning in their last photo op as a group before finally disbanding. The members are clad in their signature look, exposing and emphasizing their legs. They also posed for the last time in individual styles, showing off some of their great physical features.
During the interview with Cosmopolitan, the girls were asked if they think their group has reached its peak. Hyorin, who is 26 years old and wanted to pursue a solo career, candidly asked back if the magazine was referring to her age. Still referring to their age, Dasom, who was the youngest, answered that she hopes to reach the height of her career in three years then went on to correct herself that she actually wants to reach her peak when she is 35.
Bora, who is the oldest in SISTAR with the age of 27, pondered on the question and replied with the thought that one can reach his or her peak more than once. She admitted that she might have passed her peak but she hopes that there will be another one in the future. Hyorin added that reaching one's height in career and life usually happens when one feels satisfied and happy in his or her life and work.
SISTAR announced last month that they will be officially disbanding in June to give their members the opportunity to pursue solo projects. The group released their final single, "Lonely" and performed it live along with a medley tribute to their hit songs. Their goodbye stages were for their fans and the group was highly commended for wrapping up their activities as a group in a nice way. The girls have left heartwarming messages to their fans, reminding them to never forget the queens of summer.
© 2023 Korea Portal, All rights reserved. Do not reproduce without permission.