'The Vampire Diaries' Showrunner Talks Potential Season 9 Run, 'The Originals' To Play Key Role In Revival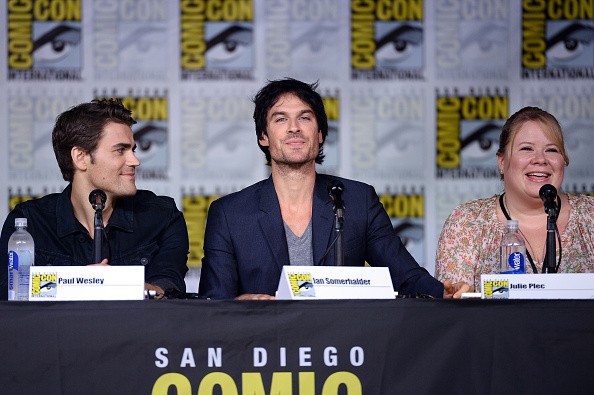 "The Vampire Diaries" Season 9 might be something that viewers will not get to see in the near future although showrunner Julie Plec recently hinted of its potential return to the small screens. Apart from sharing her thoughts about the series' revival, the said executive producer teased that a few Mystic Falls characters might get to appear in "The Originals."
Cast and crew members of the CW series "The Vampire Diaries" finally closed the chapter on the show's eighth and final season broadcast with an emotional ending that featured the return of several familiar faces. Despite the series finale, avid fans have been hoping for a potential "The Vampire Diaries" Season 9 run. Executive Procedure Julie Plec already debunked speculations of the show's potential extension, however, she recently shared her ideas on how the series could come back to the small screens.
In an interview with Entertainment Weekly, Plec commented that they still have a lot of stories to tell that could warrant a potential "The Vampire Diaries" Season 9 run. However, it might not happen in the near future and may even take years depending on how badly viewers would want the show to return.
For the potential "The Vampire Diaries" Season 9 plotline, Plec shared that they could explore Damon (Ian Somerhalder) and Elena's (Nina Dobrev) new journey, as well as Caroline's (Candice King) life after Stefan's (Paul Wesley) death. Moreover, she hinted that they could even bring some of the Mystic Falls characters to the still airing "The Originals." The said stories would also blend "very smoothly and seamlessly" into Klaus' (Joseph Morgan) world, according to the showrunner.
In other news, Plec shared her thoughts about Stefan's demise in the final episode of "The Vampire Diaries" Season 8. The showrunner told TVLine that they did not plan to kill the said character especially after Stefan's recent marriage to Caroline. However, they decided to go ahead with Stefan's death to bring closure to the said couple's storyline given the two characters' need to protect their respective families.
"The Vampire Diaries" aired its series finale on March 10 on the CW. At this time, it is still unsure if Plec will decide to release a potential "The Vampire Diaries" Season 9 in the coming years.
© 2018 Korea Portal, All rights reserved. Do not reproduce without permission.