'Teen Wolf' Series Finale Updates: Tyler Posey, Cast Members Wrap Up Filming; What To Expect From Final Episodes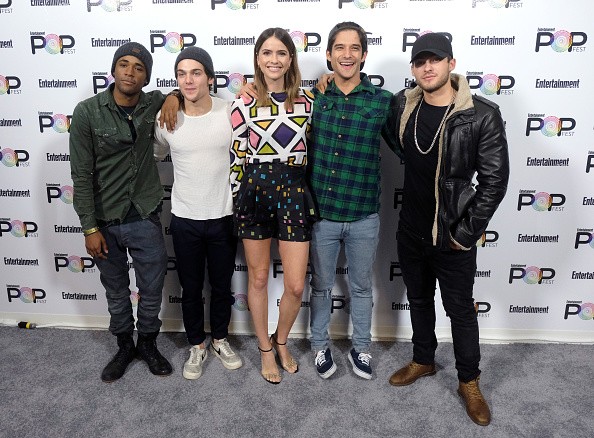 MTV's supernatural series "Teen Wolf" will soon close its final chapter after six seasons. Recently, Tyler Posey and other cast members celebrated the end of the show's filming activities for its 100th episode, which also happens to be the said program's series finale episode.
Avid viewers have been looking forward to the "Teen Wolf" series finale that will unveil the fate of beloved characters. Filming activities for the show's final episode were recently completed and to commemorate the event, crew members along with Tyler Posey, Shelley Hennig, Holland Roden, Dylan Sprayberry, Linden Ashby, Melissa Ponzio and other stars gathered together to enjoy an elaborately decorated cake.
Photos released by MTV, as obtained by TVLine, showed the cast in a group picture with the cake in front of them. Given J.R. Bourne's absence from the said celebration, Roden held a print out of the actor's face mounted on a stick so that he could still be part of the simple cast party.
Tyler Posey was also asked to convey a message during the said celebration. In a short clip, posted on the MTV show's Twitter account, the actor thanked his fellow cast members and the production team for their hard work. Describing his "Teen Wolf" stint as the "greatest thing" in his life, Posey appeared overwhelmed with emotions as he scrubbed his eyes before telling the cast and crew how much he loves them.
In other news, avid fans can look forward to seeing exciting scenes and a few familiar faces in the final episodes of "Teen Wolf" Season 6. In an earlier interview with Entertainment Weekly, showrunner Jeff Davis teased that viewers will see more of Melissa (Melissa Ponzio) and Argent's (J.R. Bourne) growing romance, as well as Malia (Shelley Hennig) tenuous relationship with her father Peter (Ian Bohen).
However, it is still unclear if upcoming episodes will feature Lydia (Holland Roden) and Stiles (Dylan O'Brien) together despite their new romantic relationship. The "Teen Wolf" Season 6 showrunner explained that Stiles' future in the series finale "remains to be seen" given O'Brien's busy schedule.
"Teen Wolf" Season 6 is expected to return to the small screens in summer. Viewers will only see ten episodes before the MTV series comes to an end.
© 2023 Korea Portal, All rights reserved. Do not reproduce without permission.