Super Junior To Release Comeback Album With Return of Siwon, Donghae and Eunhyuk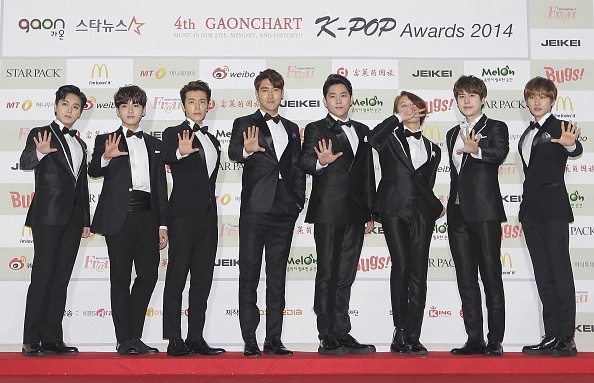 The release of Kpop idols Choi Siwon, Donghae and Eunhyuk from the military this year also signals the release of boy band Super Junior's comeback album.
According to allkpop, media outlet Star News reported Thursday that the legendary boy band is set to drop a comeback album later in the year.
The 33-year-old Super Junior leader Leeteuk, who completed his military service in 2014, already hinted last year that a Super Junior album would be possible with the return of five of their members.
"I think that we'll be promoting again for the first time in a long while under the name of Super Junior around September or October of 2017," Soompi quoted Leeteuk as saying in an interview. "First off, Sungmin and Shindong will be coming back in December of this year, then Eunhyuk and Donghae will come back in July, and Siwon will be back in August. Even if it's just the five of them coming back, since we'll have eight or nine members, we could do it, right?"
At least three Super Junior members are among the male celebrities who'll be returning from their military duty while Shindong and Sungmin already returned December last year.
Eunhyuk entered the military Oct. 12, 2015 for active duty and will be discharged July 12. Donghae will be discharged two days later after enlisting as police officer Oct. 14, 2015. Choi Siwon, who also enlisted as police officer Nov. 19, 2015, will be discharged August 18.
The 29-year-old Ryeowook, meanwhile, entered military duty October 11 last year while 28-year-old Kyuhyun is among the stars who'll be entering military duty in 2017.
Super Junior members Kim Heechul, Yesung and Kangin already completed their military duties.
Super Junior released in 2015 a special album "Devil" to commemorate their 10th year anniversary and a part two of the special album "Magic" before the trio Choi Siwon, Donghae and Eunhyuk entered the military.
© 2023 Korea Portal, All rights reserved. Do not reproduce without permission.
Tags:
Super Junior
,
Super Junior Kyuhyun
,
Super Junior comeback album
,
Super Junior 2017
,
Super Junior Magic
,
Super Junior Devil
,
Choi Siwon
,
Choi Siwon military enlistment
,
Choi Siwon military discharge
,
Donghae
,
Donghae military enlistment
,
Donghae military discharge
,
Eunhyuk
,
Eunhyuk military enlistment
,
Eunhyuk military discharge
,
Leeteuk
,
Ryeowook
,
Ryeowook military enlistment
,
Kyuhyun
,
Cho Kyuhyun
,
Kyuhyun military enlistment
,
Kim Heechul
,
Yesung
,
Kangin