United States Sends 2 B-1B Bombers to South Korea
by
YuGee
/ Sep 22, 2016 06:42 AM EDT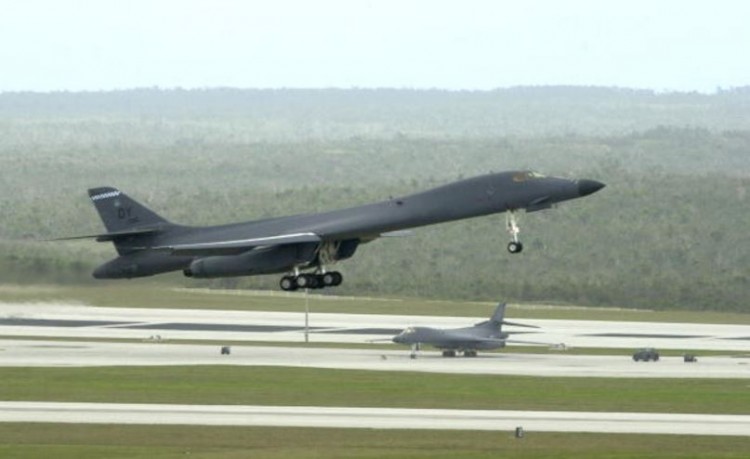 On Wednesday, the U.S. Air Force deployed two B-1B strategic bombers from the Andersen Air Force Base, Guam to South Korea. Such action is perceived as a show of force against the aggressive North Korea and a demonstration of the South Korea-United States alliance.
The Korea Heral reported that the U.S. Forces Korea declared that two B-1B Lancers flew over the country's airspace and landed at Osan Air Base.
Seventh Air Force Commander Lt. Gen. Thomas W. Bergeson said, "The bond between the United States and the Republic of Korea is ironclad and the strength of that commitment will not be shaken by North Korea's aggressive behavior. He added that the Lancers are "just a tool we have to choose from a wide array of options."
Nicknamed "The Bone" in the U.S. military, the B-1B is a four-engined supersonic variable-sweep wing, jet-powered heavy supersonic strategic bomber with Mach 2 speed.
The bomber was initially developed for nuclear capacities but was later converted to its special combat role in the 90's. Its cargo includes the AGM-158 Joint Air to Surface Standoff Missile and GPS-guided bombs like the GBU-38.
U.S. Air Force General John E. Hyten said that if the claims of North Korea that it was able to successfully carried out a ground test of its latest rocket engine, it could signify a missile threat to the United States. During his confirmation hearing at the Senate, Hyten said, "If it has that capability, it has the capability to reach the United States, So I am very concerned about that."
He also added that even though Russia and China are the two most dangerous threats to the United States, "the most likely and the most concerning are North Korea and Iran, citing the aggressiveness and unpredictability of North Korea.
Hyten reiterated that the U.S. should do more in its missile defense in order to counter any potential threats or attacks from various forces.
© 2023 Korea Portal, All rights reserved. Do not reproduce without permission.