North Korea Starts ITs Own Propaganda Broadcasts In Retaliation For South Korean Broadcasts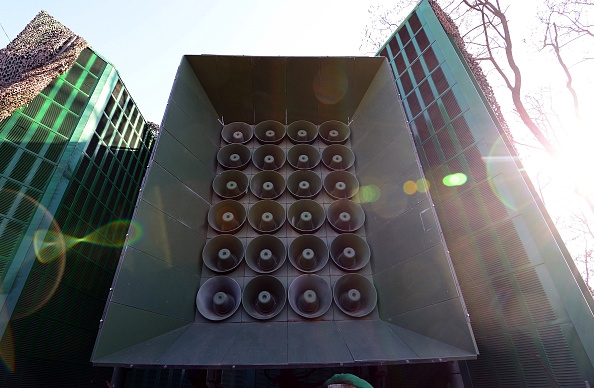 North Korea has reportedly started its own propaganda broadcasts across the Korean Demilitarized Zone (DMZ) in retaliation for South Korean propaganda broadcasts which resumed last week.
South Korea recently restarted their propaganda broadcasts after rival country claimed it has successfully conducted a hydrogen test bomb last week.
The Chosun Ilbo reported Wednesday that the North Korean propaganda broadcasts are sending out messages condemning its rival. A South Korean senior defense minister revealed Tuesday that North Korea had set up loudspeakers at about a dozen sites along the border.
Reports have revealed that North Korea's loudspeakers have a range of one to three kilometers only, making it hard for South Koreans to hear the propaganda message from the other side.
"The broadcasts sound like someone muttering so we can only tell the gender of the announcer," said an official at the Joint Chiefs of Staff (JCS). "They seem to be chiefly aimed at drowning out the South Korean broadcasts so that North Koreans can't listen to them."
Aside from this, North Korea reportedly distributed propaganda leaflets ordering South Korea to stop its propaganda broadcasts, as per JCS. Some of these leaflets were reportedly seen is Seoul and its neighboring areas.
"North Korea was seen scattering leaflets from the northern side Tuesday afternoon and early in the morning today," JCS revealed.
One of the leaflets carried a message to "knock out the gang of Park Geun Hye who aggravated North-South relations by resuming anti-North psychological warfare broadcasts," as noted by Yonhap News Agency Wednesday.
"Stop the psychological warfare broadcasts that light the fuse of war," read another leaflet.
An official at JCS said these propaganda leaflets may have been sent in South Korea through big plastic balloons launched by North Korea.
On the other hand, South Korean military is monitoring the movement of the rival's military and "stand ready to conduct its own leaflet operations at any time," the official said.
© 2023 Korea Portal, All rights reserved. Do not reproduce without permission.