What Is South Korea's Mukbang And Why Is It So Popular?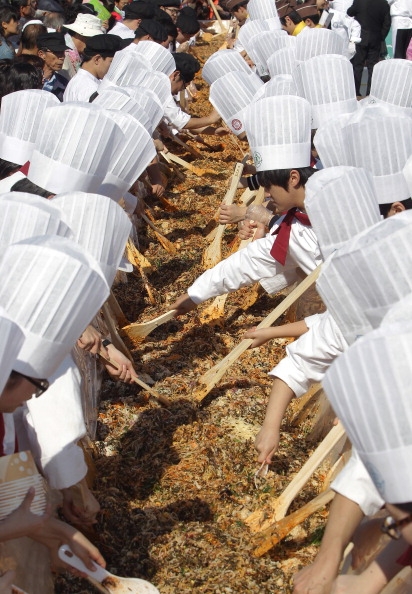 There's a new trend in South Korea that has nothing to do with skincare or K-pop.
Men and women known as BJs, also known as "broadcast jockeys" are earning thousands of dollars to eat copious amounts of food in front of people via webcam and the obsolete industry has grown into a national phenomenon over the past four years, according to Weird Asian News.
Mukbang is derived from a combination of the word "muk-ja," which means eat in Korean, and "bang-song," which means "broadcast."
The most successful of the performers are reportedly the ones that speak to their audience while slurping their food as loudly as possible. The more crunchiness, the more fans one will garner in this industry.
Images of food have always been popular.
There are multiple Instagram handles dedicated to posting pictures of food while countless Buzzfeed articles featuring food tend to trend. However, an industry where people eat on camera for money, without any sexual context, is actually quite rare.
A performer will reportedly sit down for 2-3 hours per night and eat a selection of different foods, including pizza, noodles, rice and dumplings. While many order food, there are some performers that choose to include their audience in the food-making process.
"It feels as though I'm eating that much food with her," one female viewer told Reuters.
"I feel as though that's what the show is about. And it's probably comforting for people who eat alone."
It's very true that watching someone else eat could make one feel full vicariously and/or mend the loneliness of eating by yourself. That might explain why mukbang videos are getting thousands of views.
Becoming a mukbang performer can be rewarding, as one BJ known as "The Diva" earns $9,000 a month to consume food, according to The Daily Beast. The art to mukbang is showing the audience that the BJ has eaten all of his or her food, and there's no purging involved.
This is why the Diva chooses to stick around for several hours after eating to prove that she's digesting her food. She's reportedly gained more than 20 pounds since she started. Despite living in a society where weight gain is frowned upon, Diva is the queen of her community.
Despite the sedentary nature of her job, there's an important reason Diva continues to do what she does.
"Loneliness is another crucial factor. The show is addictive as you can communicate with thousands of people home."
© 2022 Korea Portal, All rights reserved. Do not reproduce without permission.