U.S. President Barack Obama Meets With Law Enforcement Officials To Discuss Possible Measures To Curb Gun Violence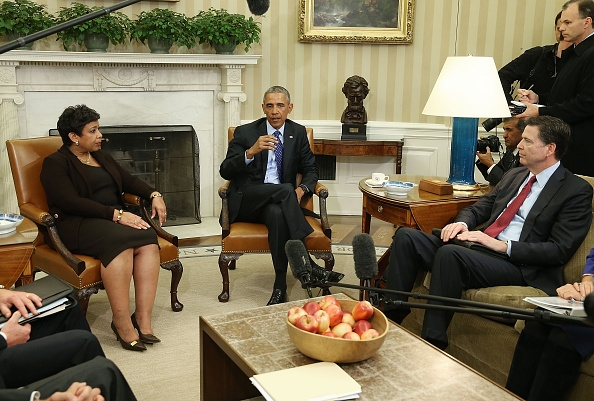 After the mass shooting incident that happened at Oregon's Umpqua Community College in October last year, United States President Barack Obama met with law enforcement officials to discuss possible executive actions that could be implemented to prevent and take control of incidents involving gun violence in the country.
President Obama sat down with FBI Director James Comey, Attorney General Loretta Lynch, and other law enforcement officials on Monday at the Oval Office to talk about the possible measures that the administration could impose to curb gun violence and "potentially save lives."
"The good news is that these are not only recommendations that are well within my legal authority and the executive branch," said President Obama, "But they're also ones that the overwhelming majority of the American people, including gun owners, support and believe in."
The New York Daily News reported Tuesday that one of the actions under consideration is a mandatory background check for individuals purchasing guns from big firearm dealers. Those purchased from gun shows and online dealers will also be monitored.
The White House reportedly plans to fund 200 Bureau of Alcohol, Tobacco, and Firearms agents and investigators that will help enforce gun laws. A $500 million investment to improve mental healthcare facilities is also under consideration.
Meanwhile, the FBI suggested the deployment of more than 230 additional examiners who will be in charge of 24-hour background checks.
Obama's gun control initiative drew sharp criticism from Republicans, especially from presidential candidate Donald Trump, who argued that wackos may perceive gun-free zones as an excellent venue to shoot people.
"Whenever I see gun-free zones, that's a flag for the wackos to come in and start shooting people," Trump said.
New Jersey Governor Chris Christie described Obama as a "a petulant child" who sidesteps Congress "whenever he can't get what he wants," The Los Angeles Times noted Sunday.
Meanwhile, several gun safety advocates celebrated the administration's move saying that this manifested a "victory for public safety."
President of Brady Campaign to Prevent Gun Violence Dan Gross said, "We're very encouraged by what the President had to say, now it's time for President Obama to make good on those words by using the full weight of his office to keep guns out of the hands of people."
© 2023 Korea Portal, All rights reserved. Do not reproduce without permission.