'Legends Of Tomorrow' Spoilers: New Cast Member Hints Of One Thing Unchanged About Sara Lance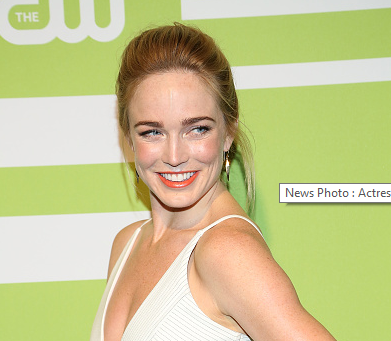 "Legends of Tomorrow" cast member Caity Lotz has revealed a lot about her character Sara Lance and what people can expect from her in the new show.
Now, the latest person to the join "Legends of Tomorrow" cast is someone who will help understand the new and improved Sara.
Ali Liebert, known for her roles in "Bomb Girls" and "Lost Girl," has been enlisted for the "Arrow" - "The Flash" spinoff series and will play love interest to Lazarus Pit renewed White Canary.
"The Kyle XY and Fringe alum will play Lindsay Carlisle, a soft-spoken, intelligent lady who is the ideal picture of 1950s womanhood," Entertainment Weekly reported.
"Although she might seem at home amongst the strict morals of the time, she harbors a dark secret: she's a lesbian. Confused and scared, it seems she is doomed to suffer alone in a backwards time ... until she falls for a girl from the future, Sara Lance."
Executive producer Phil Klemmer said Sara is not really big on finding a new love interest because of the thing she went through.
"At the start of this episode, we find Sara Lance completely out of place, both in time and place, visiting 1958 'Pleasantville, America' - and also out of place emotionally," executive producer Phil Klemmer tells EW.
"After Sara was brought back from the dead on Arrow, she hasn't been herself - she's been consumed by a quest for bloodshed and incapable of having romantic feelings for anyone. The strict social norms of the fifties makes this the last place Sara Lance would ever expect to find love with a young, closeted nurse, but that's how love works - it finds you."
Sara has just gotten off the Lazarus Pit, which changed her personality in "Arrow" season 4 episode 5. Her ferrous state mellowed down before she left Starling City to find purpose, thanks to the help of supernatural detective John Constantine.
In previous "Legends of Tomorrow" spoilers, it was claimed that Sarah might also be romantically involved with team members Ray Palmer (Brandon Routh) and Rip Hunter (Athur Darvill) but with Lindsay instead.
"Legends of Tomorrow" premieres on Jan. 21.
Other members of "Legends of Tomorrow" cast are Wentworth Miller as Captain Cold, Dominic Purcell as Heatwave, Victor Garber and Franz Drameh as Firestorm, and Ciara Renee as Hawkgirl.
© 2023 Korea Portal, All rights reserved. Do not reproduce without permission.