Finale Fit For A Queen: 'Queendom 2' Releases Previews Of K-Pop Stars' New Songs For Final Battle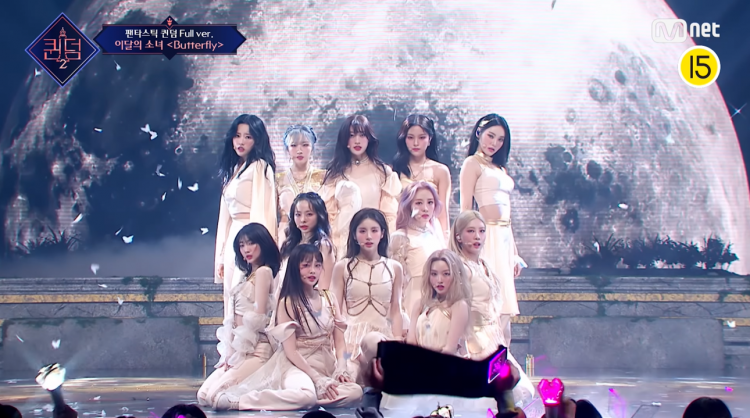 In the first season, of Mnet's "Queendom," Mamamoo took home the trophy. Which K-Pop superstar will garner the crown in the second season of the show?
READ: 'Queendom 2' Highlight: VIVIZ's SinB Once Again Combats Mnet's Potential 'Controversial Editing'
During "Queendom 2," which premiered on the 31st of March 31 this year, a plethora of talented female K-Pop artists participated. The girls have been working hard to garner love from the viewers.
Notably, as Mnet's "Queendom 2" comes closer to the finale, the program has dropped an amazing preview. The sneak peek shows a glimpse of the female K-Pop idols' upcoming new songs for the final battle.
In the highly-anticipated finale of "Queendom 2," VIVIZ, LOONA, WJSN, Brave Girls, Kep1er, and Hyolyn will be facing off one another with their latest songs.
READ: How VIVIZ's SinB Counters Mnet's 'Controversial Editing' For 'Queendom 2'
Prior to the live finale of "Queendom 2," all six songs will drop at the same time on the 27th of May at 12 p.m. KST. The number of streams garnered by each song in the next few days will add to the female K-Pop artist's score digitally.
Adding to this, the title for each female contestant's song has been announced.
Particularly, Brave Girls' song for the finale is entitled "Whistle," Hyolyn's track is titled "Waka Boom (My Way)" (featuring Lee Young Ji), Kep1er's song in the finale is entitled "THE GIRLS (Can't turn me down)," LOONA's will be "POSE," VIVIZ's is called "Red Sun!," while WJSN's is titled "AURA."
The final battle of Mnet's "Queendom 2" will be broadcasted live on the 2nd of June at 9:20 p.m. KST!
READ: Cardi B Praises LOONA For Their SISTAR's 'Shake It' Performance On 'Queendom 2'
Check out the preview of the new songs from "Queendom 2" here:
Stay tuned for more news and updates regarding your favorite K-Pop stars!
© 2023 Korea Portal, All rights reserved. Do not reproduce without permission.
Tags:
kwave
,
kwave news
,
kwave updates
,
Kpop
,
kpop news
,
Kpop updates
,
Mnet
,
mnet news
,
mnet updates
,
Mnet Queendom
,
Mnet Queendom news
,
Mnet Queendom updates
,
Mnet Queendom finale
,
Mnet Queendom 2
,
Mnet Queendom 2 news
,
Mnet Queendom 2 updates
,
Mnet Queendom 2 finale
,
Queendom
,
Queendom news
,
Queendom updates
,
Queendom finale
,
Queendom 2
,
Queendom 2 news
,
Queendom 2 updates
,
Queendom 2 finale
,
VIVIZ
,
VIVIZ news
,
VIVIZ updates
,
Loona
,
LOONA News
,
LOONA updates
,
WJSN
,
WJSN news
,
WJSN updates
,
Brave Girls
,
Brave Girls news
,
Brave Girls updates
,
Kep1er
,
Kep1er news
,
Kep1er updates
,
Hyolyn
,
Hyolyn news
,
Hyolyn updates