NMIXX Under Fire For Making Their Fans Do Something Allegedly 'Inappropriate' During Recent Fan Signing Event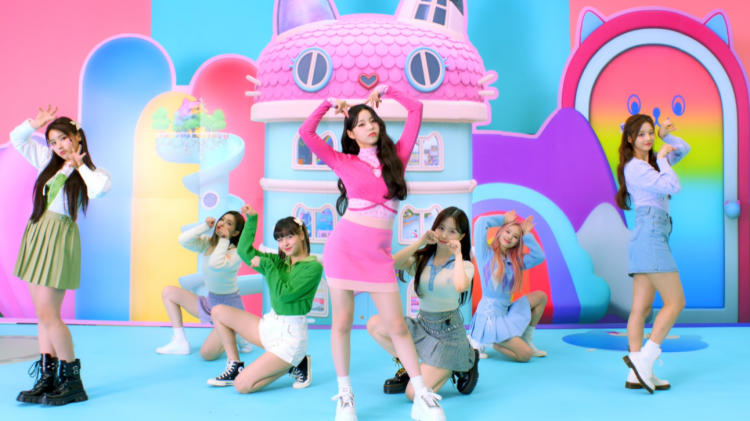 Is something inappropriate if fans do not mind doing it? JYP Entertainment's rookie K-Pop girl group recently garnered criticism for making their fans do something during a fan sign.
READ: NMIXX Honors Their Unnies As The JYP Rookies Covers TWICE's Hit 'What Is Love?'
Notably, NMIXX's Haewon, Lily, Sullyoon, Jinni, BAE, Jiwoo, and Kyujin are recently under fire for making NSWERs kneel during a fan signing event. Though fans are not all in the same corner as some don't think it was too much.
A post on an online community recently viral as they showed a photo of NMIXX's fan signing event. The photo was showing NSWERs kneeling in front of the members of NMIXX who are comfortably sitting on chairs behind a table.
Furthermore, netizens who saw the picture commented that it was unfair for fans to go to a fan signing event and be forced to kneel. Others have said that it was embarrassing. Though some questioned why the fans were kneeling in the first place.
READ: NMIXX Kyujin's Names Chaeyoung As Her Favorite TWICE Member Due To A Plethora Of Sweet Reasons
Adding to this, fans went on to say that the event organizers screwed up.
Additionally, some explained that NMIXX fans could have stood or bent forward to interact with the girl group. Netizens are merely surprised as fans do not need to kneel while getting autographs.
The main problem though is that K-Pop fans are notably spending money but are not treated well by the groups they stan. Though the members of NMIXX probably did not ask their fans on purpose.
JYP Entertainment has not released a statement on the matter as of writing this article.
READ: Due To Recent Updates, ONCEs Believe That TWICE Will Renew Their Contracts With JYP Entertainment
Stay tuned for more news and updates regarding NMIXX and other K-Pop artists!
© 2023 Korea Portal, All rights reserved. Do not reproduce without permission.