3 Factors To Consider When Choosing The Best Mattress For Your Bedtime Routine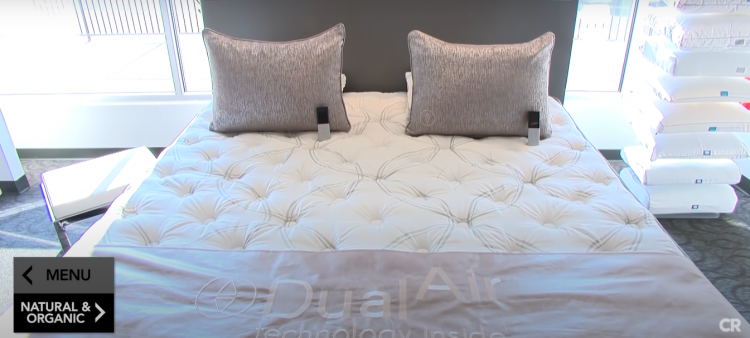 We spend about one-third of our lives sleeping or about 33% of our day in bed. Waking up on the wrong side of the bed (tired, sore, or uncomfortable) can affect how we perform during our waking time and influence the quality of our activities.
While poor sleep has multiple different causes, the place you lay your head could be one of them. When all is done, sometimes having a comfortable mattress to return helps end the day on a good note, a refuge to go to after a stretch of action. Choosing the right mattress can also help make that bedtime routine more inviting.
"Picking out a mattress can be tricky. Generally, the mattress shouldn't be too soft or too firm," said Kevin M. Cerrone, DPT, director of Rehabilitation & Orthopaedic Services at Northwell Health's Huntington Hospital, Huntington, NY. Studies have leaned toward medium firmness mattress as being generally better for lower back pain.
One Canadian report from 2014 found "limited conclusive evidence" that different mattress types could be used for the treatment of back and neck pain, and that hard mattresses were least effective in treating lower back pain.
While choosing the bed that works for you comes down to preferences and comfort, there are some other steps you can take before sealing the deal. Here are some factors to consider when choosing the best mattress for you:
Watch your body temperature
Dr. Steven H. Feinsilver, director of the Center for Sleep Medicine at Lenox Hill Hospital in New York City, says people don't sleep well when they're hot. Keeping you sleeping environment cool is important for rest. If you're located in a region with warm climate or find your bedroom to be too hot once night comes, choosing a mattress with a breathable material could help alleviate that discomfort.
Give the mattress a trial
Some mattresses have a return policy that lets you bring home the product and return it within a length of time if you aren't satisfied. Sometimes, having a bed for a month or even just a few weeks is enough to tell you all you need to know whether it'll work out as a bedtime relationship. If it's not helping out for your sleep or back pain, just return it. Some studies have shown that improved sleep on a new mattress may just be a placebo effect as well.
Align your sleep
A person's sleeping position affects how weight is distributed across the body, joints, and bed. Choosing a mattress with the size and fabric that matches your sleeping style can help to alleviate morning pain and soreness.
"If the mattress is too firm it causes excessive pressure on certain parts of your body and if too soft it allows your body to sink into bad postures. A medium firm mattress is best allowing your shoulders and hips to sink slightly," said Cerrone.
Presently, the scientific opinion on what makes a mattress ideal is generally inconsistent. Afterall, firmness of a material varies from person to person. The longtime preferences you have remain the key case for purchasing a mattress that works for you.
If you're looking for a mattress with natural healing properties, KPTown offers two sizes of the Yeongyang Lapillus Mat for 1 or 2 persons. The mat pushes out water vein and electromagnetic waves where you are laying down or sitting and is effective for sciatica, prostatitis, or cystitis.
© 2023 Korea Portal, All rights reserved. Do not reproduce without permission.