Asus Announces Two OLED Zenbooks And A New Prominent Logo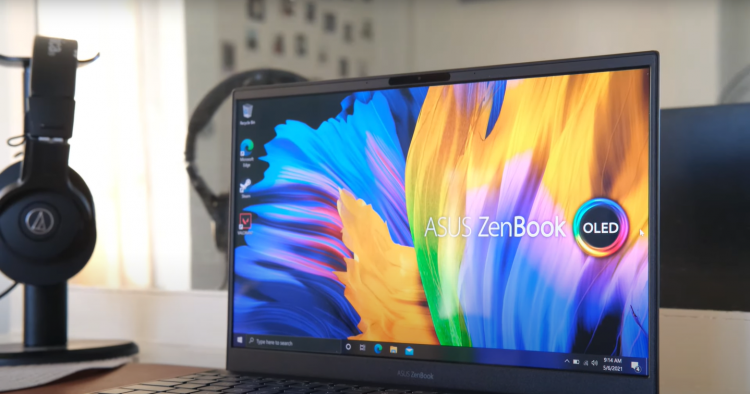 Asus has subtly revealed two additions to its Zenbook line: an AMD ultraportable and an Intel Arc workstation with new logos to boot.
The new AMD-powered Zenbook 13 S joins the limited, gradually growing lineup of 13-inch OLED laptops for consumers looking for the benefits of OLED technology for a consumer-accessible price. The company then unveiled a new Zenbook Pro 15 Flip OLED convertible powered by 12th-Gen Core processors and Arc GPUs.
READ: The OnePlus N20 5G Is Arriving On T-Mobile This April For Under $300!
The Zenbook 13 S OLED is comparable to its13-inch Zenbooks predecessors. Weighing 2.2 pounds, and over half an inch thick, the new model is available in Ponder Blue, Aqua Celadon, Refined White, and Vestige Beige colors.
The screen is where Zenbook 13 S shines. It boasts a 2.8K 16:10 touchscreen with a 0.2ms response time and a claimed 550 nits of peak brightness. In terms of connectivity, there's an audio jack (which has been missing from some recent Zenbooks), and there are three USB 3.2 Gen 2 Type-C ports that support DisplayPort and Power Delivery. However, there does not appear to be a port for USB-A.
The 13 S also runs on AMD's Ryzen 6000 processors, including a Ryzen 5 6600U or a Ryzen 7 6800U. Internal RAM can be configured with up to 32GB (LPDDR5) and storage goes up to 1TB. These specifications predict the build to be suitably effective for media and office management work, as well as general tasks typical of its 13-inch lineup.
Over on the Intel corner, the Zenbook Pro 15 Flip OLED operates especially as a workstation device. Powered by 12th-Gen processors up to a Core i7-12700H, the Arc GPUs levels up to A370M. Its 15.6-inch screen also has a 2880 x 1620 resolution and a 120Hz refresh rate with a 16:9 aspect ratio. Users can expect up to 1TB of storage, and up to 16GB of memory (which may be odd since the 13-incher goes up to 32GB).
READ: Samsung Debuts Its First-Ever QD-OLED TV!
Asus has not given us a price or release date for this device for the Zenbook 13S. Alternatively, a 13.9-inch Zenbook S (without OLED) is currently going for $1,699.98. Meanwhile, early Zenbook 15 Flip models (with Nvidia GPUs rather than Intel ones) are currently going for as much as $1,499.
For both models, a fresh sight appears in their design. The familiar engravement of the word "Asus" on Zenbook lids, has been replaced with a new arrow-shaped logo, perhaps hinting at the improved direction the company's upgrades are going.
© 2023 Korea Portal, All rights reserved. Do not reproduce without permission.