aespa Rocked The Stage At Coachella's Weekend Two With Brand New Song, 'Life's Too Short'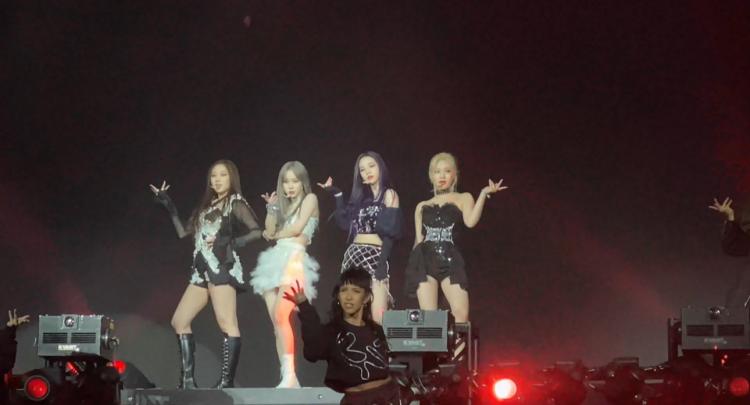 SM Entertainment's K-pop girl group aespa made their highly-anticipated debut on Coachella's stage, being the main attraction at the second weekend of the music festival, as part of 88rising's "Head in the Clouds Forever" showcase.
READ: aespa's Cryptic Hints Make Netizens Believe That Karina, Giselle, Winter, & NingNing Are Heading To The States
Initially, aespa set the stage of Coachella on fire, hyping up the crowd with live performances of their hit songs such as "Black Mamba" and "Next Level." K-pop fans in attendance were simply stunned by Karina, Giselle, Winter, and NingNing's ability to perform.
But the best part of aespa's amazing debut at Coachella was when the K-pop girl group surprised tMYs (the name of their fandom) with a brand new unreleased track entitled "Life's Too Short."
The members of aespa expressed, "This next song is about staying true to yourself. Life's too short for hate!"
READ: aespa Rocks Coachella: Karina, Giselle, Winter, & NingNing Goes Viral In Recent LA Appearance
Notably, the "English version" of aespa's unreleased track, which is slated to be on their upcoming album, had K-pop fans pumped. Fans went crazy with the lyrics that are parallel to aespa's iconic vibe and personality.
The lyrics that fans loved the most from aespa's "Life's Too Short" were:
"I'm doing me regardless and I don't care what you say about it.
And it don't matter if you like it or not, I'm having all this fun.
So why would I ever stop?
Some people are so mean, all behind a phone screen.
But we tryna live our lives, why you gotta be so vicious?
Just be about your business instead of getting up in mine.
You need to get away because life's too short!"
READ: aespa's Karina & Giselle Reacts To A Fan's Proposal To NingNing
Thank you Coachella ️‍

Check out the live stream on YouTube Coachella LIVE Channel 1
https://t.co/rwTr12OC7g

24 Apr 2022 | 2:00PM (KST)
23 Apr 2022 | 10:00PM (PDT)

@ ai.visuals#aespa #æspa #에스파 #aespaCoachella pic.twitter.com/2qUMwG1NFQ — aespa (@aespa_official) April 24, 2022
K-pop fans who were not able to see ICYMI: 88rising's Head in the Clouds Forever showcase which features aespa's electrifying debut, can stream the showcase on Coachella's official YouTube channel.
© 2023 Korea Portal, All rights reserved. Do not reproduce without permission.
Tags:
Life's Too Short
,
Life's Too Short news
,
Life's Too Short updates
,
aespa Life's Too Short
,
aespa Life's Too Short news
,
aespa Life's Too Short updates
,
kwave
,
kwave news
,
kwave updates
,
Kpop
,
kpop news
,
Kpop updates
,
SM
,
SM artists
,
SM Entertainment
,
SM Entertainment artists
,
SM Entertainment news
,
SM Entertainment updates
,
SM Entertainment aespa
,
aespa
,
aespa news
,
aespa updates
,
coachella
,
Coachella news
,
Coachella updates
,
aespa Coachella
,
Coachella aespa
,
Coachella 2022
,
Coachella 2022 news
,
Coachella 2022 updates
,
Coachella 2022 aespa
,
aespa Coachella 2022
,
2022 Coachella
,
2022 Coachella news
,
2022 Coachella updates
,
2022 Coachella aespa
,
aespa 2022 Coachella