Russia Bombs Lviv Where 200,000 Refugees' Are Located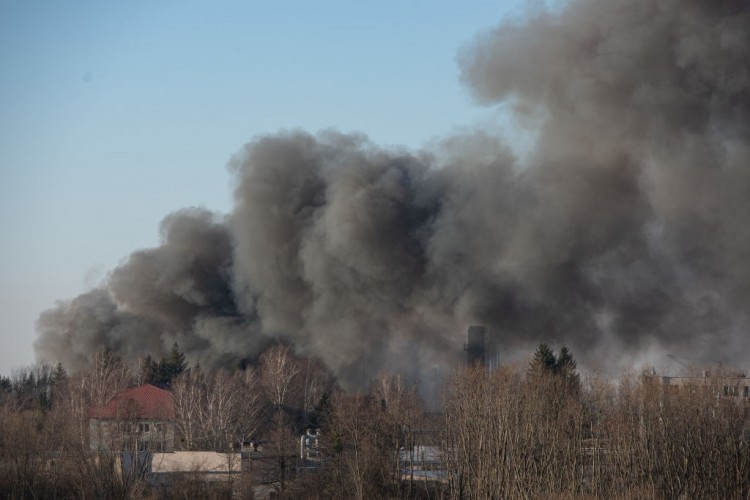 Russian forces attacked the western city of Lviv for the first time since the invasion of Ukraine.
The city of Lviv is a stopover for Ukrainian refugees trying to flee abroad before they move to the border, and is a temporary residence for media organizations and embassies forcibly relocated from the capital Kyiv.
Also, Lviv is about 70 km away from the border with Poland, which is a member of the North Atlantic Treaty Organization or NATO.
According to CNN, Lviv mayor Andriy Ivanovych Sadovyi said through a telegram that Russian forces bombed the vicinity of Lviv airport this morning. Furthermore, Mayor Sadovyi said the Russian military launched several missile strikes near Lviv airport, including an aircraft repair factory in Lviv.
"Before the launch of the Russian missile, work at the aircraft repair plant had been suspended, and so far there have been no reports of casualties in the attack," Lviv Mayor Andriy Ivanovych Sadovyi said in a Facebook post.
It was also reported that missile supply warnings sounded in most cities in Ukraine from 6 am on the same day, and the first explosion sound was heard around 6:30 am.
Lviv, with a population of a little over 700,000, is currently being used as a temporary refuge for Ukrainian refugees and various foreign missions trying to escape the Russian attack in the country. Additionally, Lviv is also being used as the main arms supply channel for the Ukrainian army.
Meanwhile, the Korean embassy in Ukraine also set up a temporary office in Lviv to help the Korean refugees. However, it was decided to withdraw the temporary office as the situation of military threats near Lviv grew.
"The heightened military threat in the vicinity of Lviv made it difficult to perform the functions of the temporary office and ensure the safety of officers," the South Korean Ministry of Foreign Affairs said the day before.
© 2022 Korea Portal, All rights reserved. Do not reproduce without permission.