APINK Chorong Shared The Difficulties She Went Through While She Was A Trainee!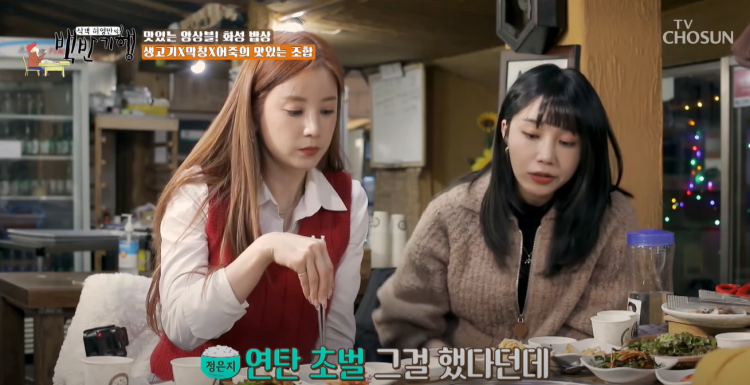 On the 4th of February, APINK's very own Eunji and Chorong were featured as special guests on TV Chosun's show, "Foodie Heo Young Man's Baekban Journey." In the show, the two K-pop idols went to Hwasung in Gyeonggi-do to find the best Korean food.
In the broadcast, Eunji and Chorong revealed with host Heo Young Man the hardships they had to go through before making their debut as APINK. K-pop icon Chorong went on to surprise the host when she shared the things she had to do to save money as a trainee.
READ: NCT Mark, DAY6 Wonpil, VIVIZ, APINK, & More: K-Pop Comebacks & Debuts This February!
"To save money, I would buy a lunch box from the convenience store and eat it for two days," APINK's Chorong expressed. The K-pop idol went on to add that there were also times when she would survive off of one box of cereal for a month.
Furthermore, even after debuting as APINK, Eunji and Chorong both shared that they forgot the importance of eating well as it was hard to eat an actual meal because of their extreme diets that the K-pop idols were going through to save money.
The APINK members then shared their gratitude to TV Chosun's "Foodie Heo Young Man's Baekban Journey," as it had been a long time since the two K-pop idols ate three special meals in a day.
APINK's Eunji and Chorong also revealed the difficulty of dieting as the two K-pop idols expressed, "Even when we eat patbingsoo during the hot summer, we would have to eat it without the red beans and condensed milk."
Later on in the program, APINK's Eunji and Chorong, and host Heo Young Man were seen having a good time eating octopus as they visited a restaurant with over 40 years of experience.
APINK's Chorong, who is known for her disdain of octopus, was surprised by the taste of the meal, while APINK's Eunji showed how to eat octopus, to the delight of K-pop fans.
© 2023 Korea Portal, All rights reserved. Do not reproduce without permission.
Tags:
kwave
,
kwave news
,
kwave updates
,
Kpop
,
kpop news
,
Kpop updates
,
IST Entertainment
,
IST Entertainment artists
,
IST Entertainment news
,
IST Entertainment updates
,
IST Entertainment Apink
,
IST Entertainment Apink Eunji
,
IST Entertainment Apink Chorong
,
IST Entertainment Chorong
,
IST Entertainment Eunji
,
Apink
,
Apink news
,
Apink updates
,
APINK MEMBERS
,
Apink Chorong
,
apink chorong news
,
Apink Chorong updates
,
Chorong
,
chorong news
,
chorong updates
,
Apink Eunji
,
Apink Eunji news
,
Apink Eunji updates
,
Eunji
,
Eunji news
,
Eunji updates
,
TV Chosun
,
TV Chosun news
,
TV Chosun updates
,
TV Chosun shows
,
TV Chosun programs
,
TV Chosun series
,
TV Chosun Foodie Heo Young Man's Baekban Journey
,
Foodie Heo Young Man's Baekban Journey Chorong
,
Foodie Heo Young Man's Baekban Journey Eunji
,
Foodie Heo Young Man's Baekban Journey Apink