All For One: BLACKPINK's Jennie, Lisa, & Rosé Shower Jisoo With Support For 'Snowdrop'!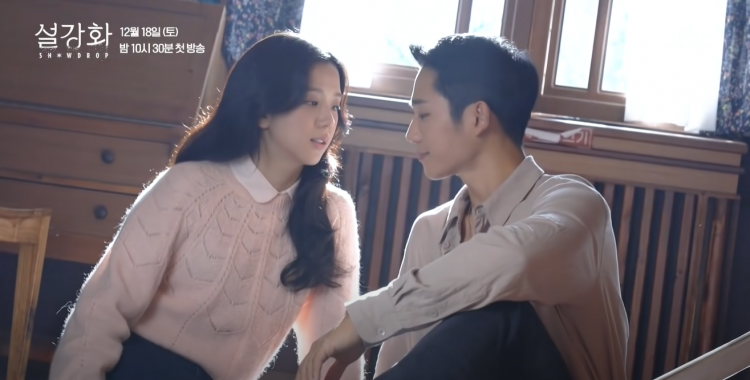 To the delight of fans, BLACKPINK's Jisoo's upcoming JTBC K-drama "Snowdrop" starts broadcasting today on the 18th of December at 10:30 pm KST as of writing this article.
This is Jisoo's lead actress debut, and the BLACKPINK member will star alongside Jung Hae In in "Snowdrop." BLINKs, the fandom name of BLACKPINK, have commented on the synergy between the two, which makes fans really excited to see what they have to offer.
READ: BLACKPINK's Jisoo & Jung Hae In Once Again Make Fans Melt In Recent 'Snowdrop' B-T-S!
But aside from support from fans, the other members of BLACKPINK are all in showing Jisoo love and support for her upcoming drama.
"The other BLACKPINK members promised that no matter what, they would watch the drama when it airs on TV, even when I was filming, because we contact each other so often, they were always cheering me on," BLACKPINK's Jisoo revealed to Harper's BAZAAR Korea.
READ: Working With Jung Hae In, Support From BLACKPINK, & More, BLACKPINK's Jisoo Goes In-Depth!
Previously on the 16th of December, BLACKPINK's Jisoo was featured in a press conference for the premiere of JTBC's "Snowdrop," and both BLACKPINK's Jennie and Rosé showered Jisoo with love and support on Instagram.
BLACKPINK's Jennie uploaded a photo of Jisoo on her Instagram story with the caption, "Our Young Ro, looking so so so forward to it."
Following suit, BLACKPINK's Rosé went on to repost Jisoo's post to her Instagram story as well with the caption, "Our unnie is pretty. Please let Snowdrop be a hit."
Naturally, BLACKPINK's Jisoo went on to repost both stories on her own IG with sweet captions.
Later on, BLACKPINK's Jisoo also had a live broadcast on Instagram, and she mentioned that BLACKPINK's Lisa must have watched the press conference because the "LALISA" singer texted Jisoo.
READ: TWICE's Tzuyu, BTS's V, BLACKPINK's Lisa, IU, ASTRO's Eunwoo, & More, 2021's Most Searched K-pop idols!
BLACKPINK's Jisoo shared on her Instagram Live, "Lisa may have watched my [conference], because she sent me a message earlier saying, 'unni, you looked pretty! You worked hard.'"
The members of BLACKPINK have truly created an unbreakable bond with one another.
© 2023 Korea Portal, All rights reserved. Do not reproduce without permission.
Tags:
kwave
,
kwave news
,
kwave updates
,
Kdrama
,
kdrama news
,
kdrama updates
,
Kpop
,
kpop news
,
Kpop updates
,
JTBC
,
JTBC News
,
JTBC Updates
,
JTBC show
,
JTBC shows
,
JTBC programs
,
JTBC program
,
JTBC snowdrop
,
Snowdrop
,
Snowdrop news
,
Snowdrop updates
,
BLACKPINK Jisoo Snowdrop
,
Snowdrop BLACKPINK Jisoo
,
Jisoo Snowdrop
,
Snowdrop Jisoo
,
YG
,
YG artists
,
YG Entertainment
,
YG Entertainment news
,
YG Entertainment updates
,
YG Entertainment BLACKPINK
,
BLACKPINK
,
Blackpink news
,
Blackpink updates
,
BLACKPINK members
,
blackpink jisoo
,
BLACKPINK Jisoo news
,
BLACKPINK Jisoo updates
,
Jisoo
,
Jisoo news
,
Jisoo updates